It is that time of year again when you're thinking of fun and quick holiday gifts.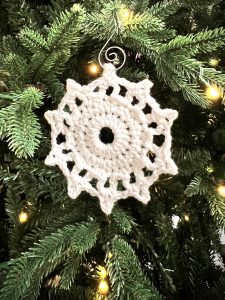 I look forward to designing my annual snowflake pattern every fall. One step I added to the process this year was remake the previous snowflake patterns. I didn't want to duplicate the snowflakes I've already designed.
All my snowflake designs work perfectly as coaster or ornaments among other items such jewelry, bunting, and even keychains. As a coaster the Blustery Snowflake is a great gift for anyone regardless of their religious beliefs, it's a wintery décor item and not necessarily an Christmas tree ornament.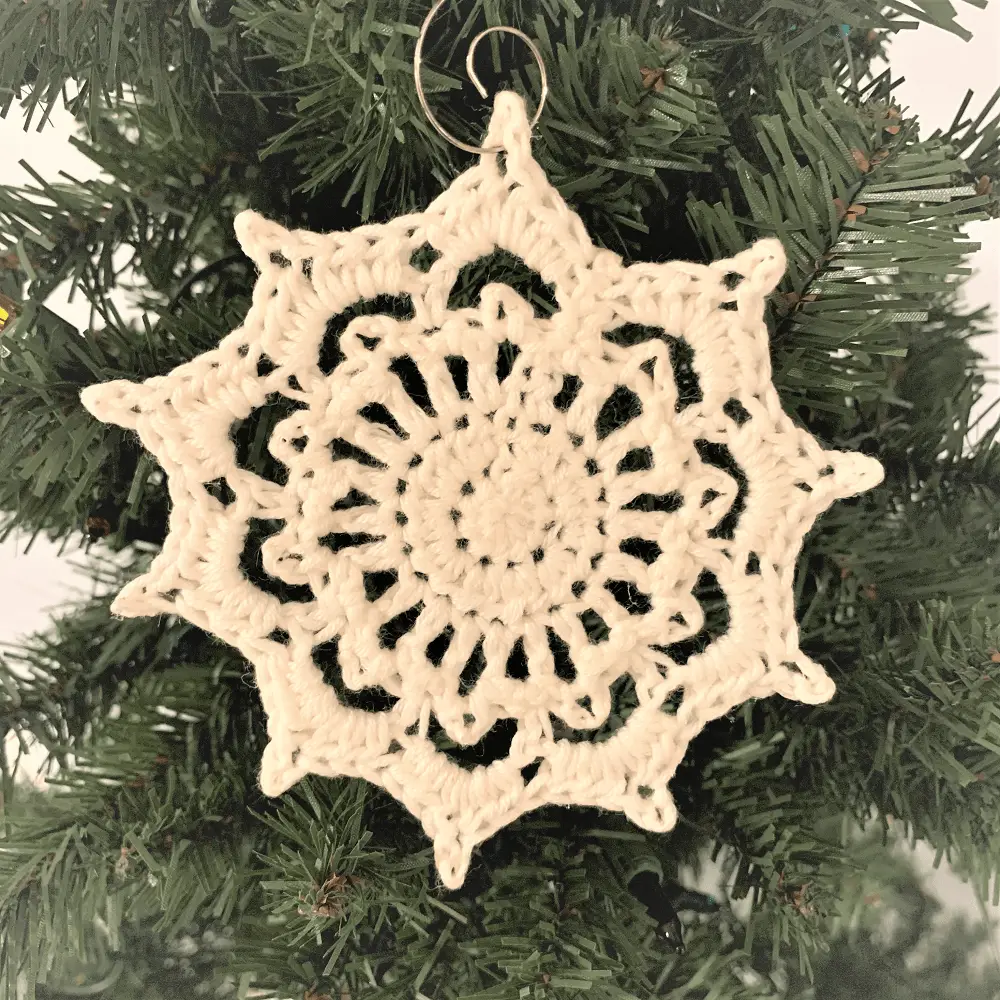 ****Post contains affiliate links – which means if you make a purchase from the links below, I will get a small percentage of the sales at no additional cost to you****
The Yarn
Like all my other snowflake designs, I used Lily Sugar 'n Cream in white. I find this yarn easiest to work with knowing that I will block them and sometimes use a stiffener.
One of the best features of the Blustery Snowflake is that you can play around with different yarns and hooks to get different items. Change to size 10 crochet thread and make earrings or ornaments for a small accent tree.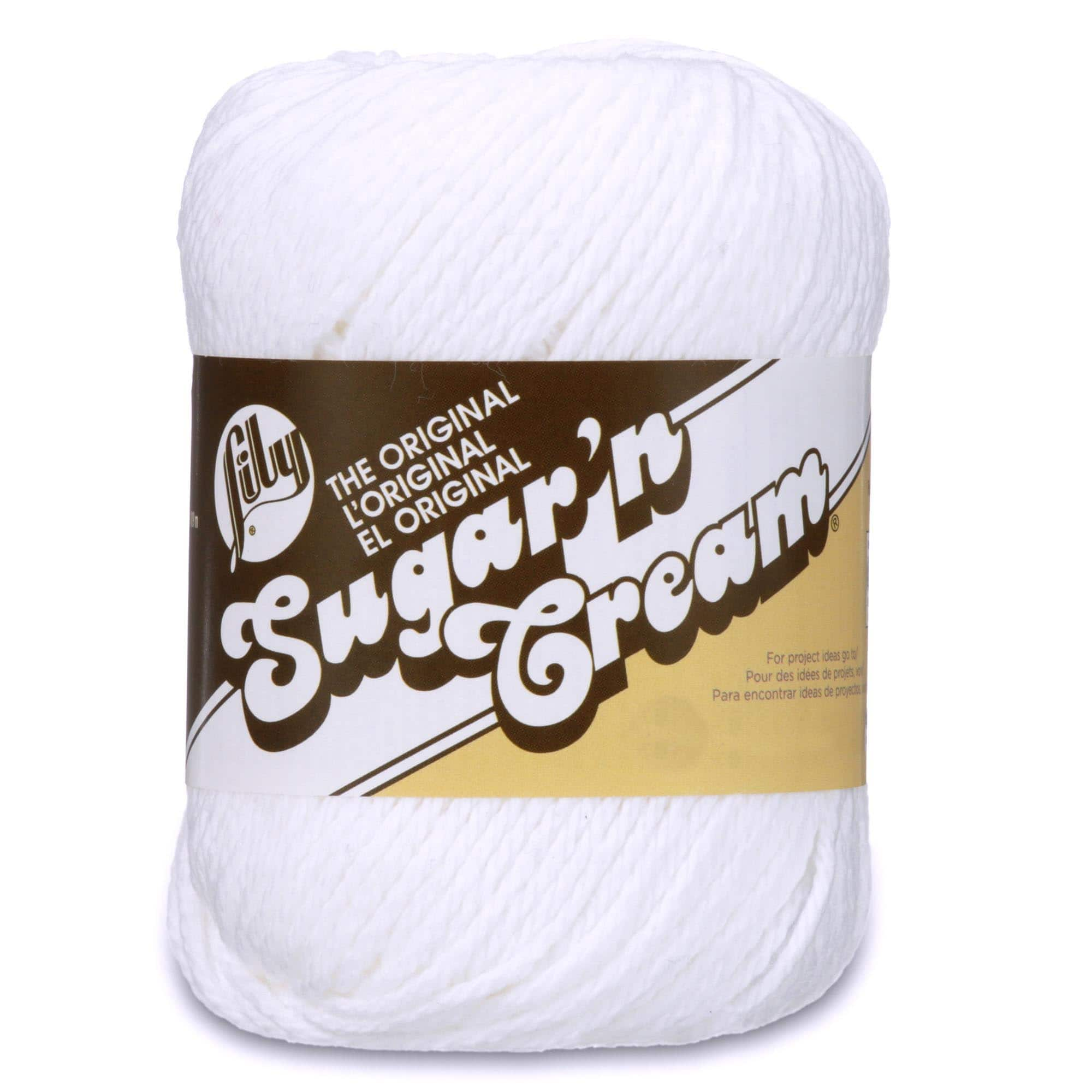 Supplies Needed
40 yards worsted weight cotton
H/5.00mm crochet hook
Yarn needle
Measuring tape
Scissors
Blocking materials (optional)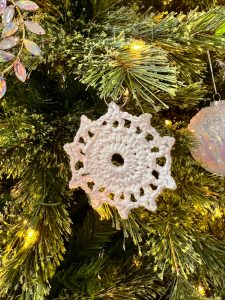 Stitches Used
Ch – Chain
Hdc – Half Double Crochet
Sc – Single Crochet
Sk – Skip
Sl St – Slip Stitch
Sp(s) – Space(s)
St(s) – Stitch(es)
Gauge & Finished Size
Gauge: N/A
Finished Size: After blocking 4.5" across from point to point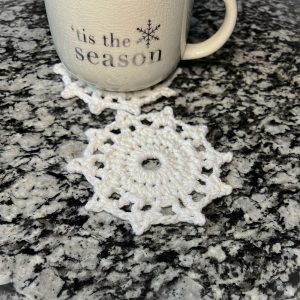 Pattern Notes
Written in American crochet terms.
Worked in the round.
A stitch count is given at the end of each round.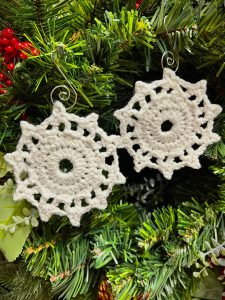 Picot – (Ch 3, Sl St into 1st Ch).
Play around with the yarn and hook and make a multitude of items such as earrings, ornaments, coasters, and pieces for garland.
Previous snowflake patterns include the Zeta Snowflake, Omega Snowflake, and Sisterhood Snowflake.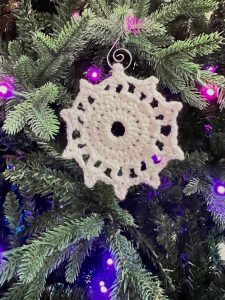 Availability
You can purchase the ad free pdf download of the Blustery Snowflake on Ravelry and Etsy.
The Pattern
Note: Picot – (Ch 3, Sl St into 1st Ch)
1.) Ch 7, Sl St to 1st Ch to form a ring.
2.) Ch 1, into ring, 20 Hdc. Join with a Sl St to 1st Hdc. (20)
3.) Ch 1, Sc in same St as join, 2Hdc in next St, *Sc in next St, 2Hdc in next St, repeat from * around.
Join with a Sl St to 1st Sc. (30)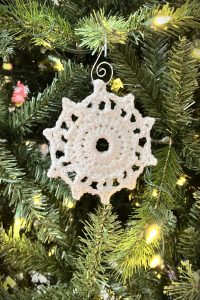 4.) Ch 1, Sc in same St as join, Sl St next St, Ch 5, Sl St into next St, *Sc in next St, Sl St next St, Ch 5, Sl St next St, repeat from * around. Join with a Sl St to 1st Sc. (10 Ch 5 Sps)
5.) Sl St into next Sl St (the one before Ch 5), *(Sc, picot, Sc) in Ch 5 Sp, Ch 2, repeat from * around.
Join with a Sl St to 1st Sc. (10 picots)
Finish off and weave in ends.
Blocking isn't necessary but advised.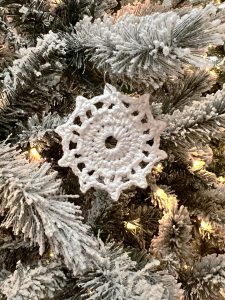 Holiday Décor Blog Hop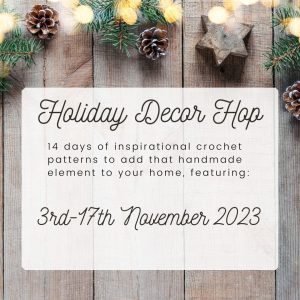 The Blustery Snowflake is featured on the Holiday Decor Blog Hop hosted by Cosy Rosie UK. The event has 15 crochet patterns perfect for decorating your home this holiday season. All of the featured designs also make great gifts.
On Friday November 10th you can get the ad free pdf download for free using the coupon code found HERE.

Love the Blustery Snowflake? You'll love the other snowflake designs from Crochets By Trista too!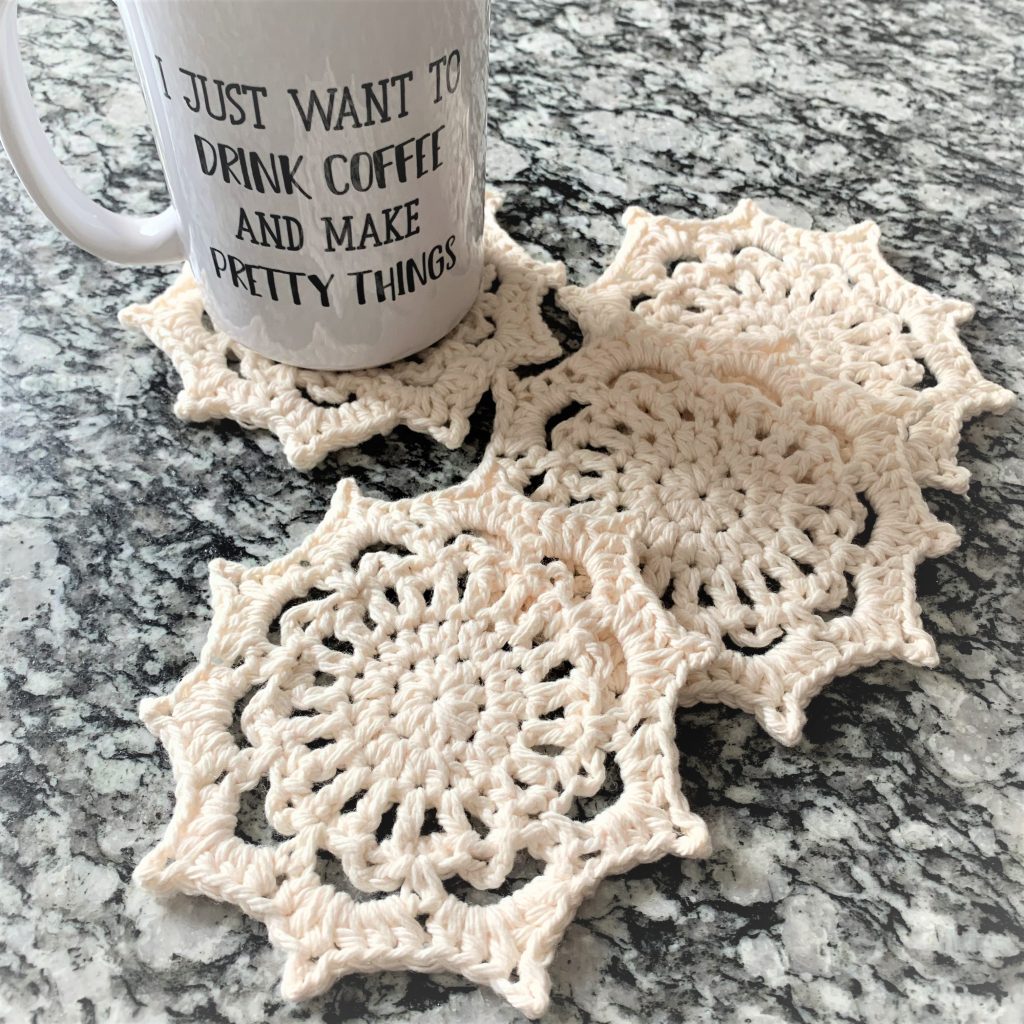 ---
Follow Crochets By Trista on:
Facebook
Instagram
Pinterest
Ravelry
Etsy
Ribblr
Love Crafts
Join the
"Crochets By Trista Crochet Community"
on Facebook. 
I'd love to hear from you! Don't hesitate to contact me.  Let me know what you're working on or designs you'd like to see in the future.  Use the links above or email me at crochetsbytrista@gmail.com 
If you've purchased my designs in the past, leave a review.  I want to know what you think.
You may sell finished items made with my pattern, I just ask that you credit the design to Crochets By Trista.
I can not offer any refunds on patterns due to it being a pdf download.