Do you need a quick and easy holiday/winter gift idea? You've come to the right place.
My Zeta Snowflake is at least 3 different projects within the one design. Depending on the size yarn that you pick you can have a coaster, a holiday tree ornament, or a set of earrings.
I hope you enjoy this snowflake as much as I do. Below you can find all the details and supplies you'll need to make some for yourself, or friends and family.
***Post contains affiliate links – which means if you make a purchase from the links below, I will get a small percentage of the sales at no additional cost to you ***
30 Days of Cozy
I'm so excited to be participating in 30 Days of Cozy 2020 hosted by Made With A Twist.
For the month of September, Pam Grise of Made with A Twist is featuring over 30 crochet designers from the Crochetpreneur Business Academy offering at least one FREE PDF downloads each day. Listed below are all the participating designers.
Mega Yarn Giveaway
On top of hosting the 30 Days of Cozy, Pam is also having a yarn giveaway.
One grand prize winner will win over $200 USD in yarn! Simply enter using Rafflecopter below. The winner will be randomly selected on Oct. 1, 2020.
Want more chances to win, be sure to check out each of the other featured designer's blog for more chances to enter this MEGA giveaway!
a Rafflecopter giveaway
Did you miss out on previous featured patterns? Interested in purchasing all 36 crochet patterns for less and $.50 each? Have major FOMO (Fear Of Missing Out) on the future patterns?
Grab your
30 Days of Cozy Crochet Pattern Bundle
featuring 35+ patterns for only $18.00!
Pattern Notes
A stitch count has been provided at the end of each round.
By switching the yarn and hook size, you can make earrings and/or ornaments. (Size 10 crochet thread and a 1.5mm hook; #3 light weight yarn and a H hook; #2 sport weight yarn and E hook)
Blocking isn't necessary for the coasters but advised. To get an ornament or earrings to look their best, you will need to block the finished items using Aleene's Stiffen Quik or a similar product.
The Yarn
To make the coasters, you will need 100% cotton worsted weight yarn and a 5.50mm crochet hook. For the yarn, I used Lily's Sugar 'N Cream, but you could your own favorites from your local craft store.
To make the ornament, you will need a sport weight yarn and 2.75mm crochet hook. I used Premier's Cotton Fair available at Michael's Arts & Crafts.
To make the earrings, you will need size 10 crochet thread and a 1.5mm hook. I used Aunt Lydia's Classic Crochet Thread, available at Michael's Arts & Crafts.
Supplies Needed
– 25 yards of 100% worsted weight cotton yarn
– I/5.50mm crochet hook
– Scissors
– Measuring tape
– Yarn needle
– Blocking materials
– For ornament; ornament hook
– For earrings; earring findings
Stitches Used
Ch – Chain
Hdc – Half Double Crochet
Mc – Magic Circle
Sc – Single Crochet
Sk – Skip
Sl St – Slips Stitch
Sp(s) – Space(s)
Special Stitches
Picot – Ch 3, Sl St into 1st Ch.
The Pattern
Coaster: make 4
Ornament(s): as many you'd like
Earrings: make 2
Round 1: 10 Hdc in MC, connect to 1st Hdc with Sl St. (10)
Round 2: Ch1, 2Hdc in next St and each St around. Join with Sl St to 1st Hdc. (20)
Round 3: Ch 1, *Hdc in next St, Ch 2, * repeat around. Join with Sl St to 1st Hdc. (20 Hdc)
Round 4: Ch1, *Sc in next Ch 2 space, (Sl St, Ch 3, Sl St) in next Ch 2 Sp, * repeat around. Join with a Sl St to 1st Sc. (10 Ch 3 bumps)
Round 5: Ch1, Sc in same Sc as join, Ch 5, Sk Ch 3 bump from previous row, *sc in next sc, Ch 5, Sk Ch 3 bump from previous row, * repeat around. Join with a Sl St to 1st Sc. (10 Ch 5 Sps)
Round 6: Ch 1, *(3Hdc, Picot, 3Hdc) in Ch 5 Sp, * repeat around. Join with Sl St to 1st Hdc. (10 Picots)
Finish off and weave in ends. Block if necessary.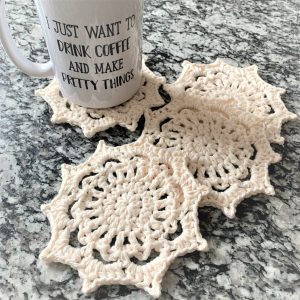 Availability
A PDF download is available to purchase on both Ravelry and Etsy.
For the 30 Days of Cozy, click the image below to get your FREE PDF download with Coupon Code (available at Made With A Twist)
Use hashtag #zetasnowflake on IG so I can see your snowflakes.
---
Join the
"Crochets By Trista Crochet Group" on Facebook
Follow Crochets By Trista on:
Facebook
Instagram
Pinterest
Etsy
Ravelry
I'd love to hear from you! Don't hesitate to contact me. Let me know what you're working on or designs that you'd like to see in the future. Use the links above or email me at crochetsbytrista@gmail.com.
If you've purchased my designs in the past, leave a review. I want to know what you think.