Welcome to the Lupine Shawl Crochet-Along! Over the next 7 posts we will be making the beautiful Lupine Shawl.
I've separated the Lupine Shawl into 6 parts so it is easy to follow along and you won't be so overwhelmed with making it.
In Part 1 we will go over all the supplies and information you'll need to make the Lupine for yourself, because this is a project that you'll want to keep. I'll also give you instructions on how to do your gauge swatch.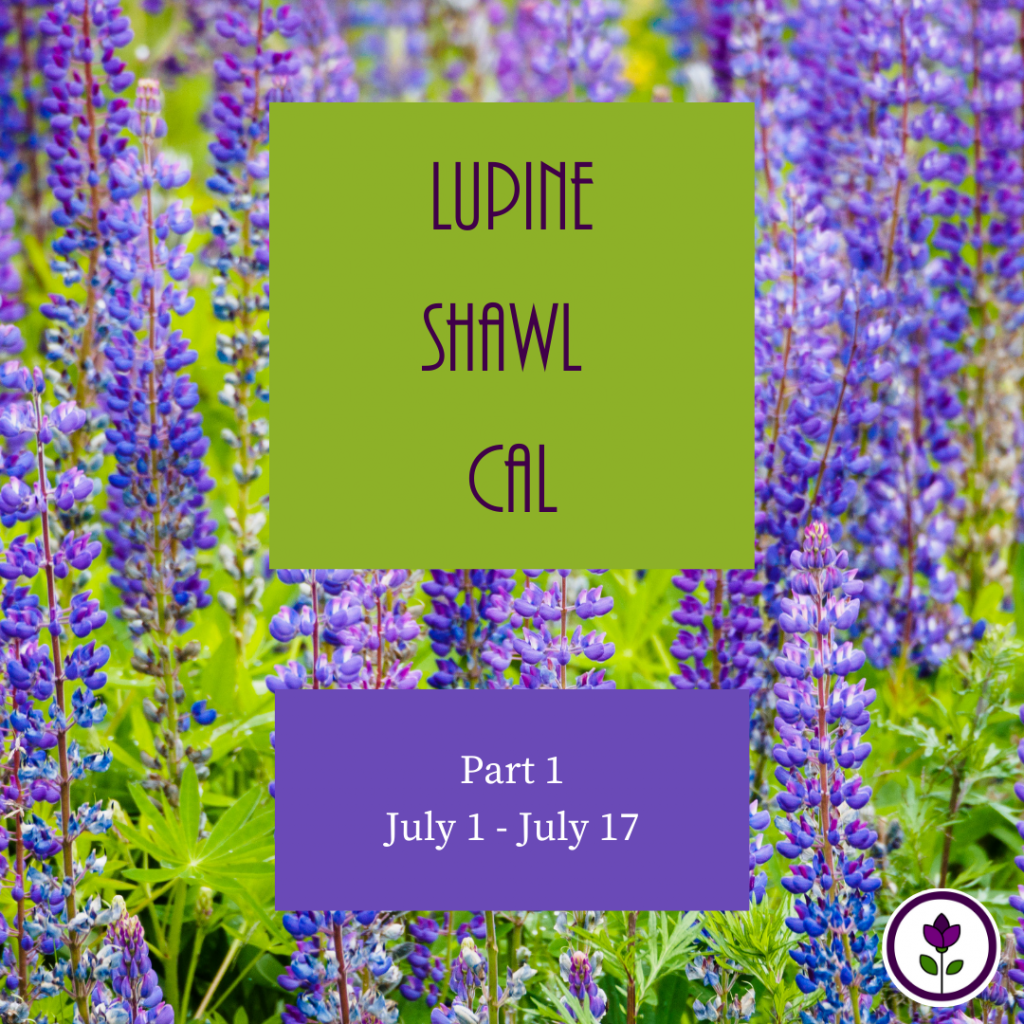 **Post contains affiliate links – which means if you make a purchase from the links below, I will get a small percentage of the sales at no additional cost to you**
Supplies Needed
To make this beautiful triangle shawl you will need the following: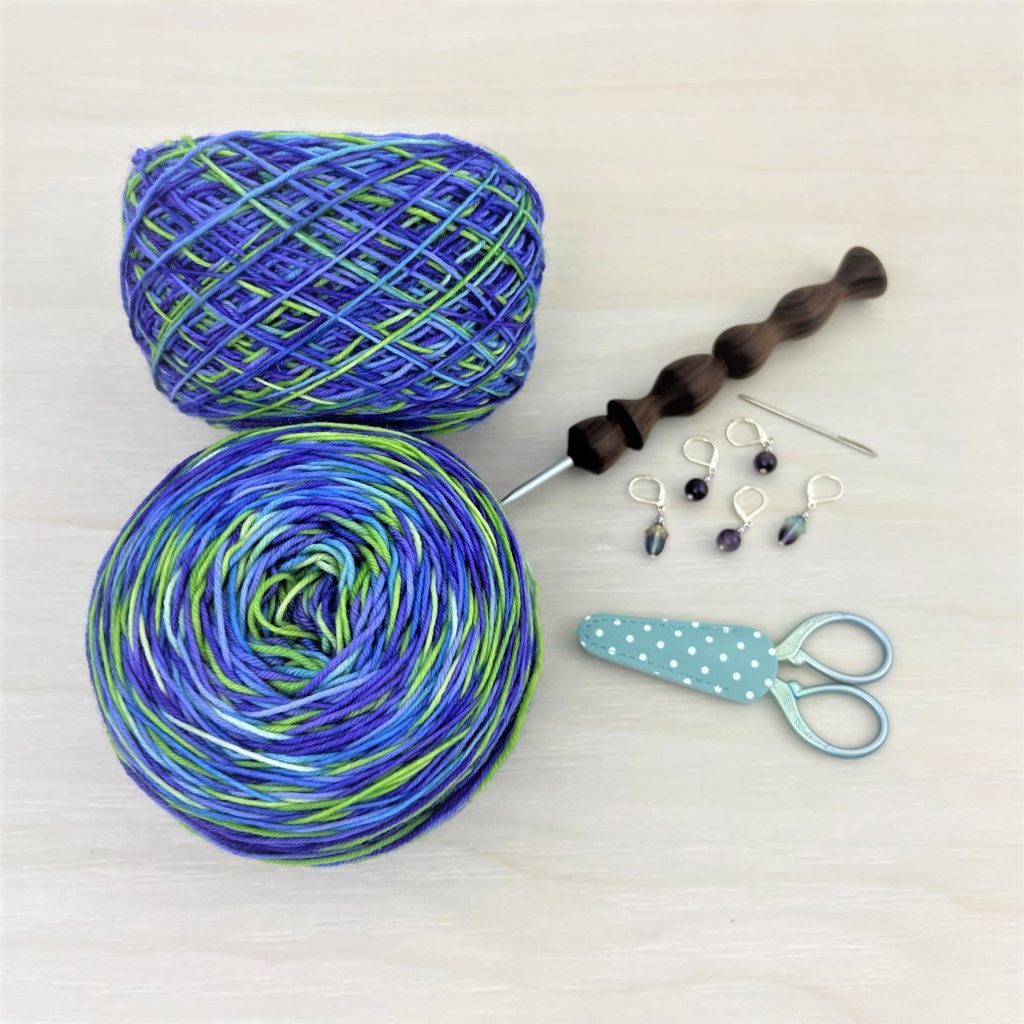 The Yarn
I worked with Joanna of High Desert Yarn on creating a special colorway specifically for this Crochet-Along. We threw so many ideas at each other. I think the end result is the perfect marriage of our ideas.
The Lupine Colorway gives me all the "summer" vibes. The purples, greens, and blues within the yarn make me think of fields of wildflowers along the road while taking a road-trip.
You can purchase the yarn needed for your own Lupine Shawl in the High Desert Yarn Etsy Shop.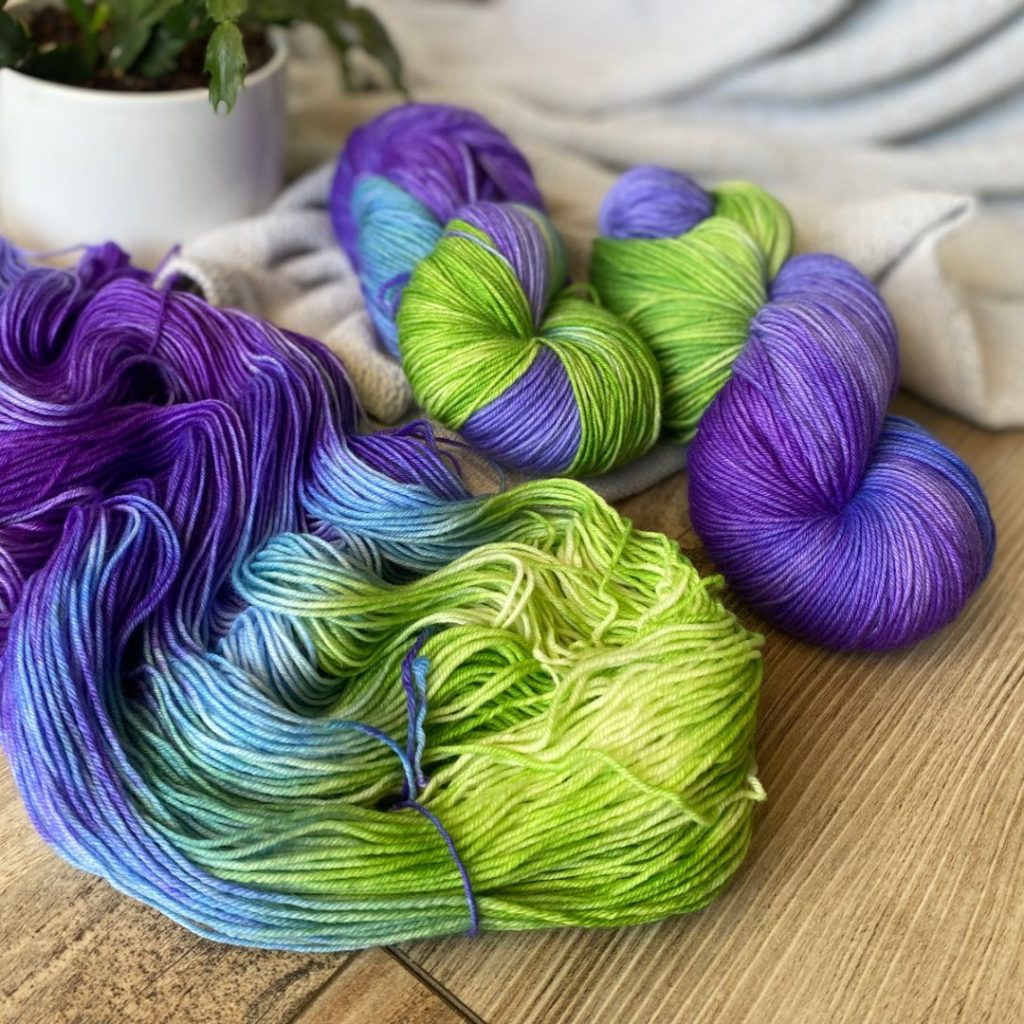 Stitches Used
The Lupine Shawl used just a few stitches to make a wonder lacy summer shawl. They include the following:
Ch – Chain
MC – Magic Circle
Sc – Single Crochet
Sk – Skip
Sp(s) – Space(s)
St(s) – Stitch(es)
Str – Starting Treble Crochet
Tr – Treble Crochet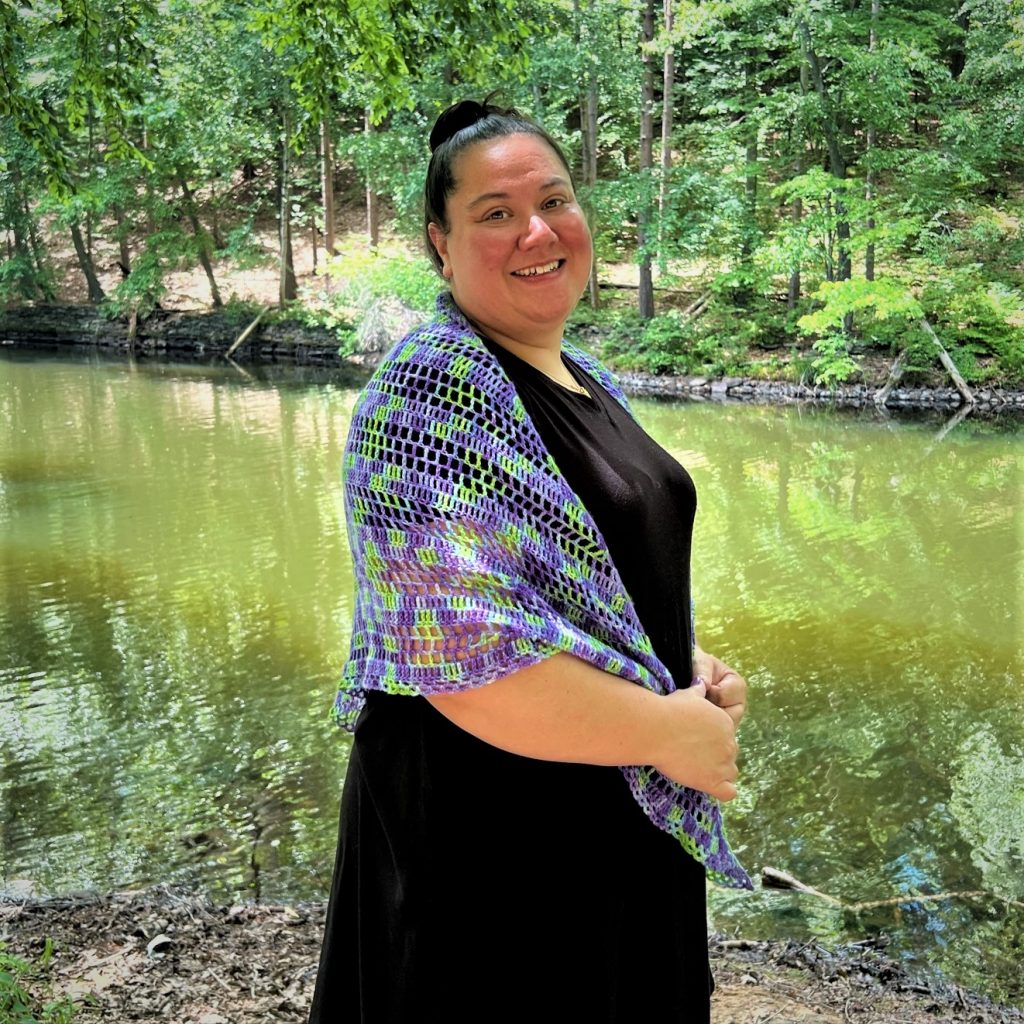 Stitch Definition:
Starting Treble Crochet – (also known as Long Chain Treble Crochet or Chainless Starting Treble Crochet.) Pull up your loop to the height of your usual Treble Crochet. Yarn over twice, insert into the 1st St, yarn over, pull through the Stitch, yarn over, pull through two loops on the hook, yarn over, pull through two loops on the hook yarn over, pull through the remaining two loops on your hook.
I've enjoyed using the Chainless Starting Double Crochet from Tamara Kelly of Moogly in the past and it can easily be used for a Starting Treble Crochet.
Finished Size
The finished size of the Lupine Shawl is:
Before Blocking – 60" wide x 30" tall
After Blocking – 70″ wide x 35″ tall
Blocking your finished shawl helps open up the lace work and border. It looks just as nice without blocking.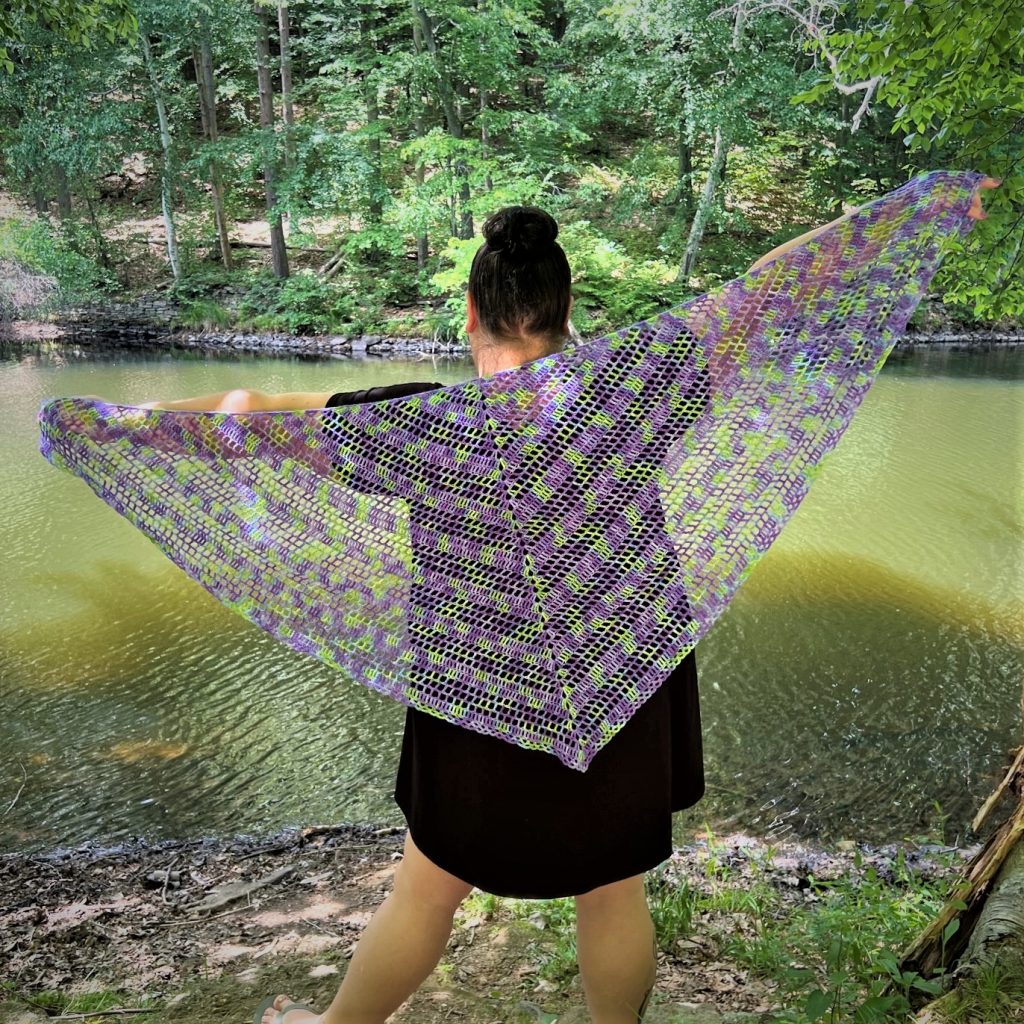 Gauge
I had the following gauge when I made the Lupine Shawl:
20 Sts x 7 Rows of Tr = 4"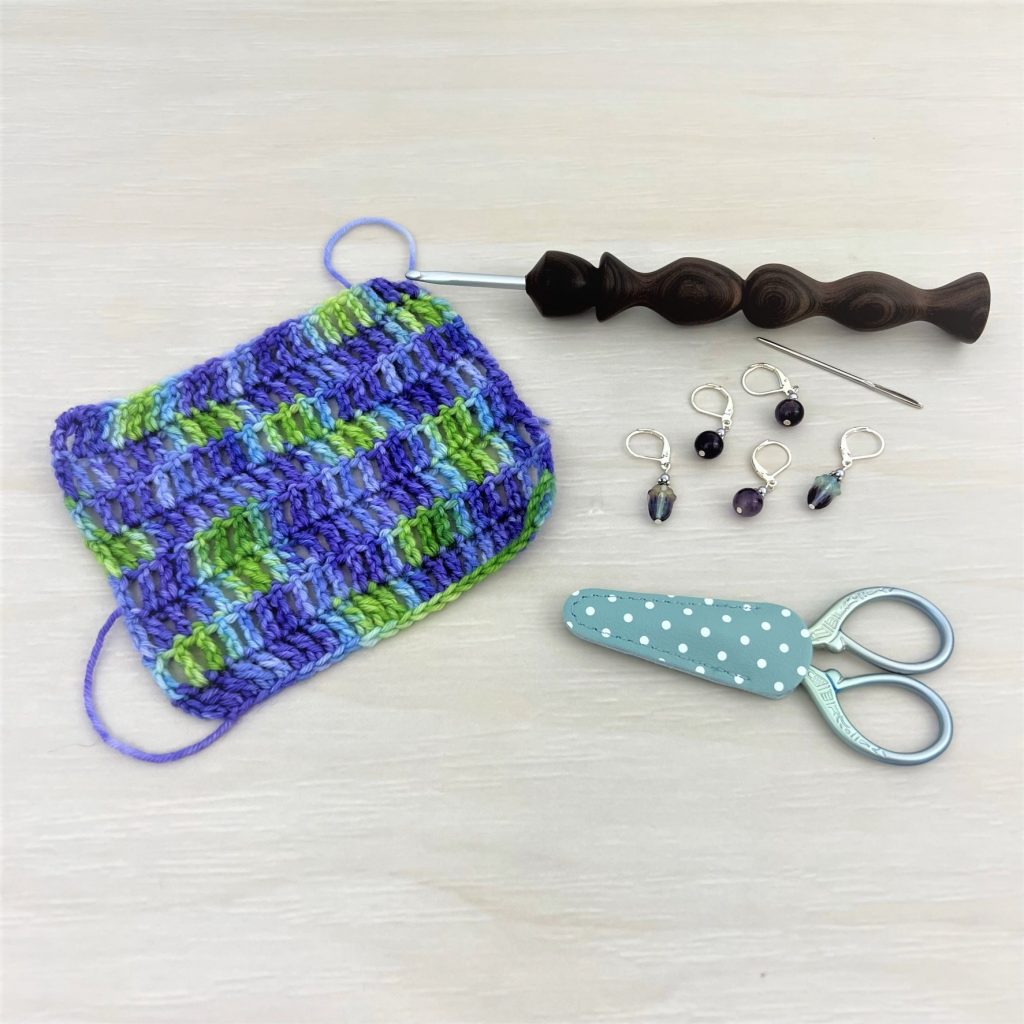 Swatch
Ch 35
Row 1.) Tr in 5th Ch from the hook (Ch4 counts as Tr) and each Ch across. (32)
Rows 2-10.) Turn, Str in first St, Tr in next St and St across. (32)
In the middle of the swatch you should have 20 Tr in 4″; 7 rows should also measure 4″.
By doing the gauge swatch you can get a little practice using the Str.
Your gauge doesn't have to be EXACTLY the same. If it is slightly off, your final yardage and finished size will be different.
Pattern Notes
The following tips and information might be helpful when making your Lupine Shawl:
Written in US crochet terms.
Blocking finished shawl isn't necessary but advised.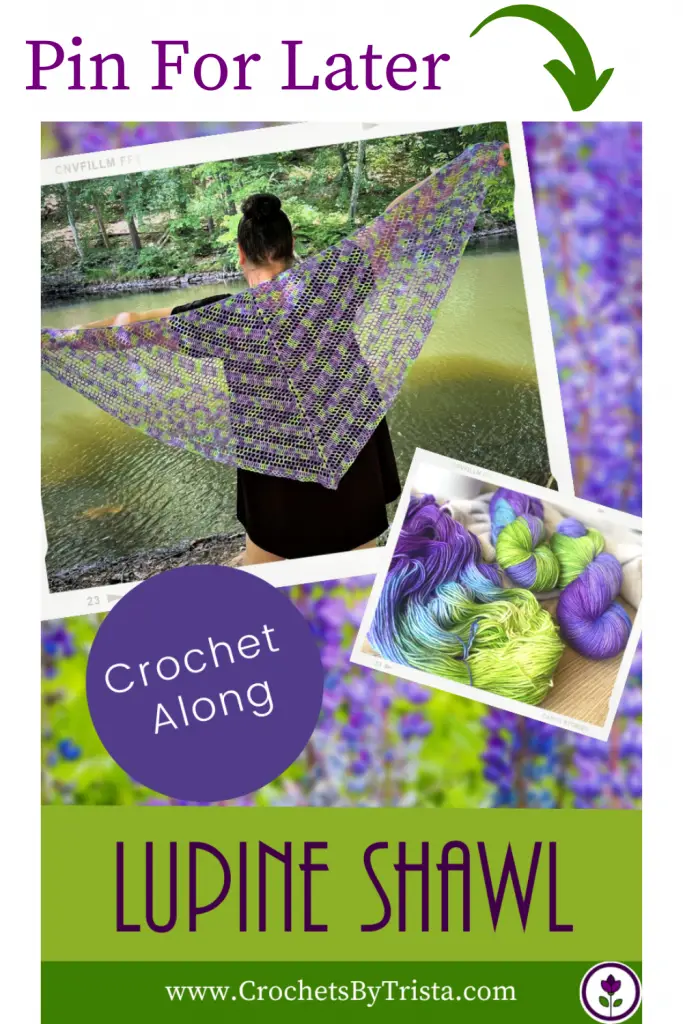 The Str can be substituted with a Ch 4.
A stitch count is provided at the end of each row.
I changed skeins every 5 rows to use the skeins evenly and to make any variations in the yarn to be less noticeable.
Part 2
Part 2 of the Lupine Shawl Crochet-Along is now available and we will cover the first section of the pattern.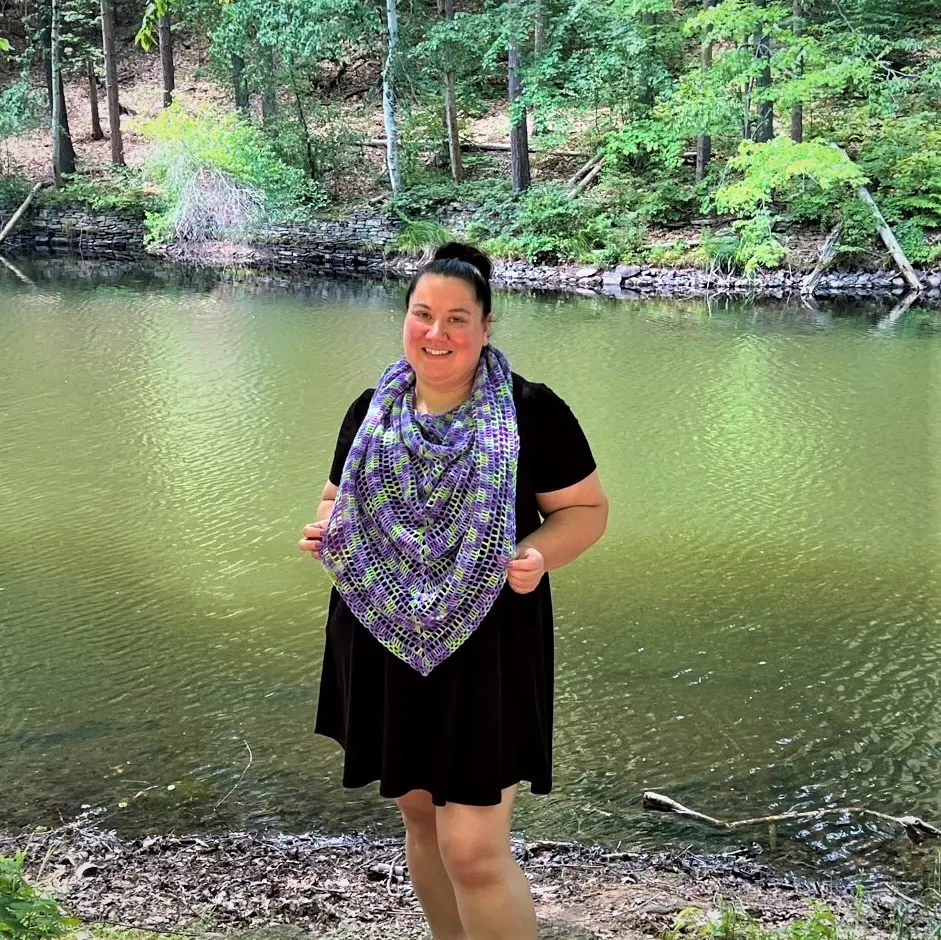 Joanna and I made a fun playlist on Spotify for you to listen to while stitching up your Lupine Shawl.
Availability
You can purchases the PDF download on Ravelry and Etsy.
---
Join the
"Crochets By Trista Crochet Community"
on Facebook.
Follow Crochets By Trista on:
Facebook
Instagram
Pinterest
Ravelry
Etsy
Ribblr
Love Crafts
I'd love to hear from you! Don't hesitate to contact me.  Let me know what you're working on or designs you'd like to see in the future.  Use the links above or email me at crochetsbytrista@gmail.com 
If you've purchased my designs in the past, leave a review.  I want to know what you think.