***Post contains affiliate links- which means if you make a purchase from the links below, I will get a small percentage of the sales at no additional cost to you ***
I've been friends with Krystal of Eco-Minded Stitches for a while now. I like to think that my influence has helped her step out of her comfort zone and start her crochet designing journey.
We're both members of the Crochetpreneur Business Academy and trying to learn all the things about being a crochet business owner. We've come to learn a lot about ourselves and the dreams we have as designers in the crochet world.
I've asked Krystal if she'd be interested in having a guest post on my blog to help each other. Life is always a little easier when a friend is by your side when starting something new. I haven't had another designer featured on my site before and she doesn't have a blog to send her followers to for a free pattern.
Be sure to follow Krystal on social media and to sign up for her newsletter, all links can be found at the bottom of the page. Now, for the heartfelt memory of Krystal's inspiration behind the XOXO Eco-Mini.
The XOXO Eco-Mini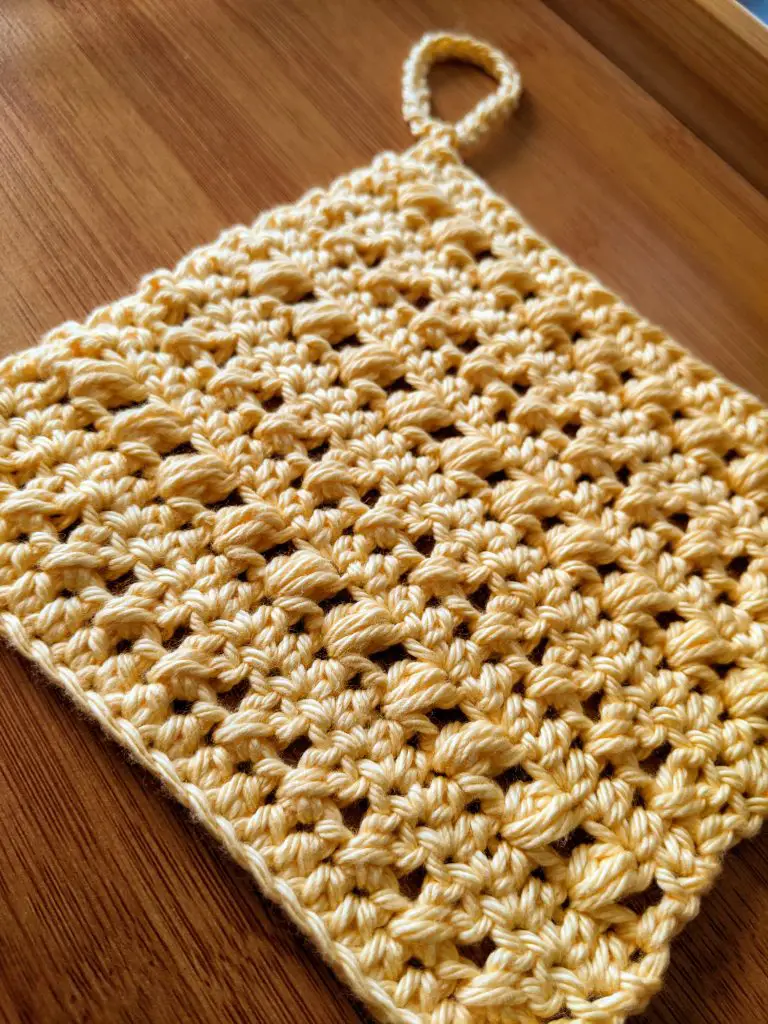 Krystal of Eco-Minded Stitches
Krystal is the maker and designer behind Eco-Minded Stitches. She and her family reside in Michigan. She is a stay-at-home mom to her two daughters.
She learned to crochet on a short weekend trip out of state in 2015. Since then, Krystal has been perfecting her crochet stitches and techniques. She enjoys making items for the home to support sustainable living.
Besides crocheting Krystal enjoys gardening, hand lettering and reading. The beach is her happy place.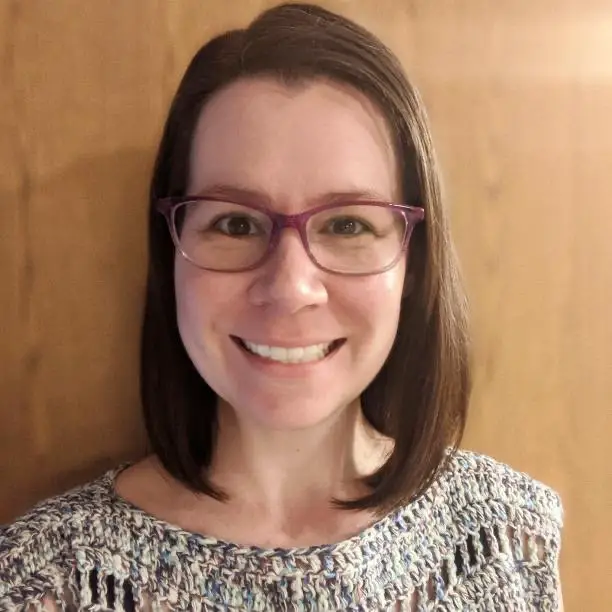 The Inspiration Behind The XOXO Eco-Mini
My parents divorced when I was young. My paternal grandmother, who we called GG, always made a point to send my brother and I mail quarterly. Over the years I have kept some of the letters and cards she has sent. 
For my 16th birthday she sent me a wonderful card and gift as well.
A few things have always stuck out to me. She always wrote in cursive. Her cursive and my own mother's handwriting were completely different from one another. I remember spending hours analyzing their writing…and not to forge a signature either. I found it fascinating that it was the same…cursive…yet so different. 
I believe this is where my love for writing came into play as a teen. I was already journaling. I remember changing up my writing within my journal from printing to cursive. I also remember many pages being scribbled out due to the fact that I was practicing letters and they didn't look like my own mother's cursive or even my GG's. I unfortunately do not have any of my journals from when I was a teen (insert sad face here). 
Sadly my GG passed away last year at the age of 94. We recently moved into a new home. While packing I found where I placed her gift she sent me for my 16th birthday. I was then reminded of her as I often am and had an idea. I have designed the XOXO Mini with her in mind. She always made me feel important and special by speaking to me as she would anyone else. As a child being spoken to by an adult as if you were one too was one of the best feelings ever.
The stitches used in this design resemble the XOXO she signed her letters with.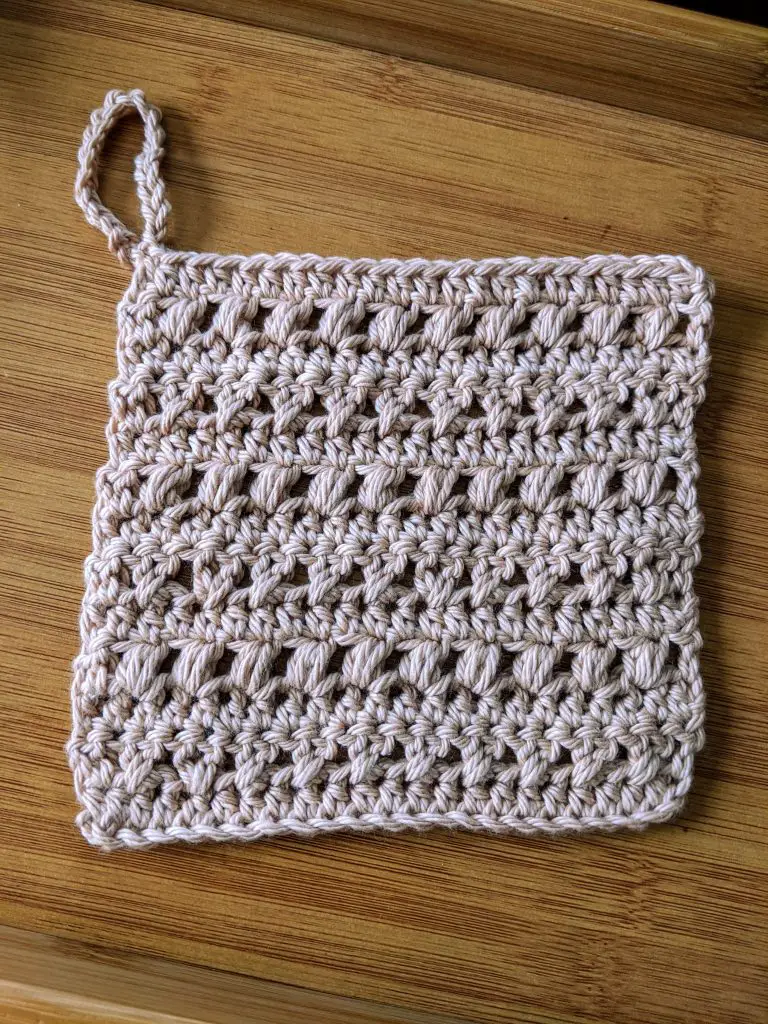 Availability
You can find this pattern for free here on Trista's blog or an ad-free version in my Etsy and Ravelry shops.
I hope you enjoy this pattern as much as I enjoyed designing it.
Stitches Used
~ cdc – sk 1 st, dc in next st, crossing in front of the dc just made work 1 dc in last sk st.
~ pf – yo, insert hook into st, yo pull loop up to desired height (yo, insert hook into same st, yo pull up loop to height of previous loops) twice, yo, pull through all 7 loops, ch 1 to close pf.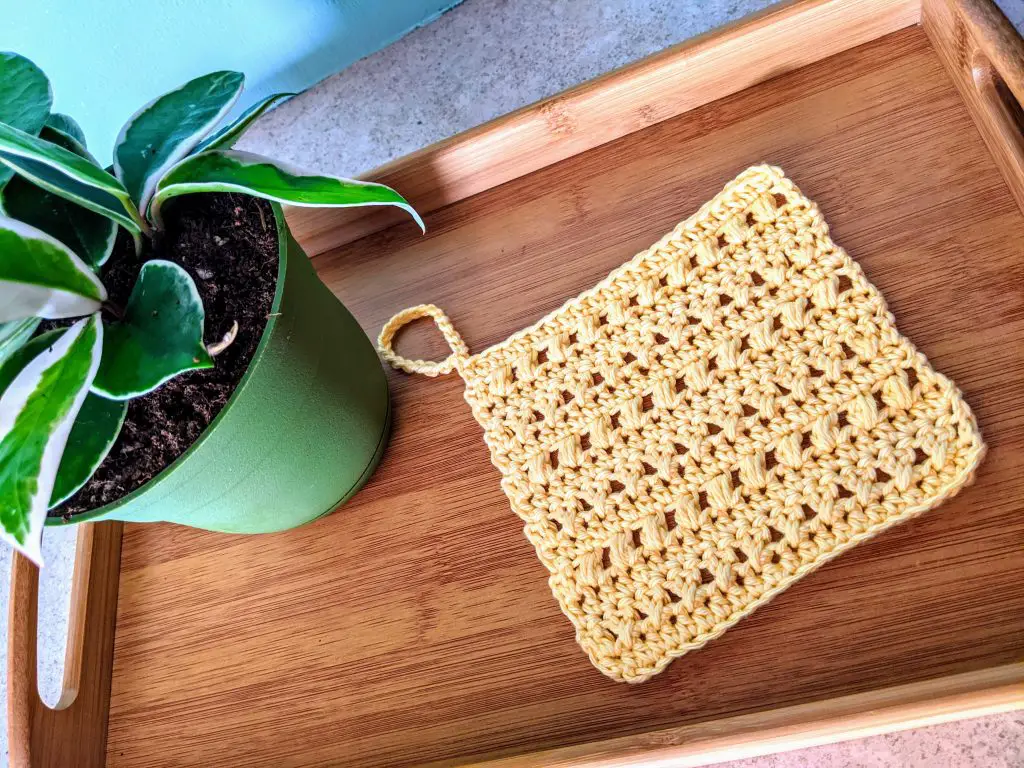 Supplies
– Approximately 1 oz of  #4 worsted weight cotton yarn. I used I Love This Cotton 3.5 oz/ 100 gm 180 yds 165 m to make one cloth. Color Shown: Buttercup
– US size I crochet hook ( 5.5mm )
– Measuring Tape
– Scissors
– Stitch Markers
– Tapestry Needle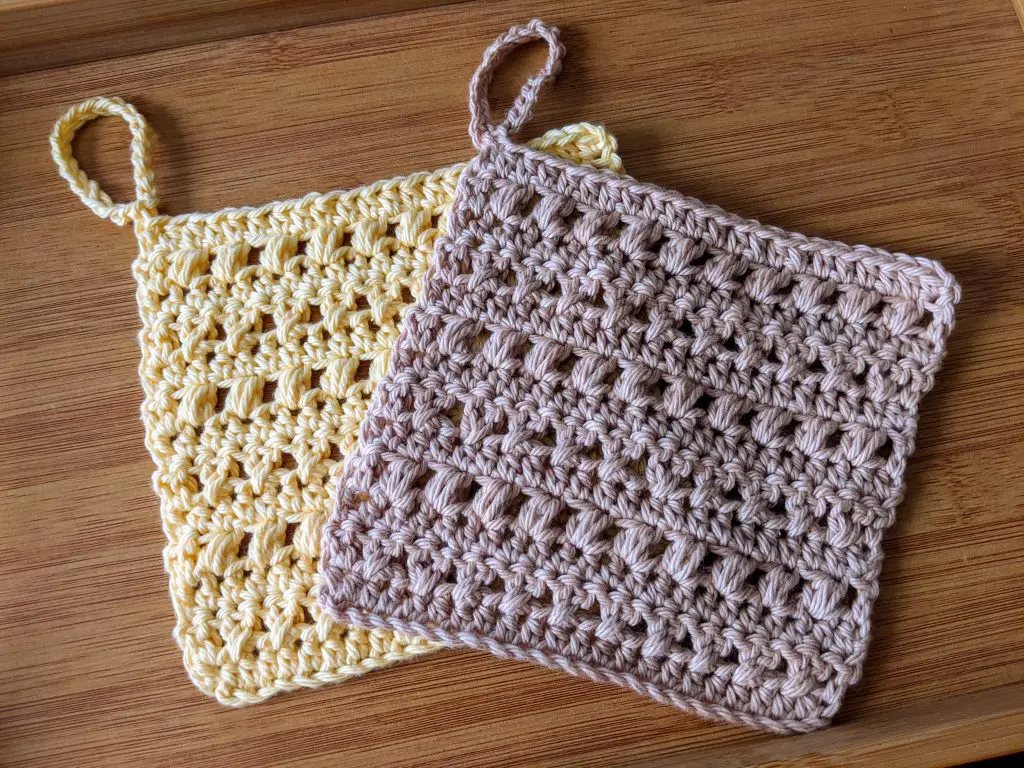 The Pattern
Ch 23
Row 1: hdc in 2nd ch from the hook and each st across. (22)
Row 2: Turn, ch 2, dc in 1st st, *cdc, * repeat across, dc in last st. (22)
Row 3: Turn, ch 1, hdc in 1st st and each st across. (22)
Row 4: Turn, ch 2, dc in 1st st, *pf, sk,* dc in last st. (22)
Row 5: Repeat row 3.
Row 6-13: Repeat rows 2-5.
Optional Loop: ch 20 and sl st to same st.
Fasten off. Weave in ends.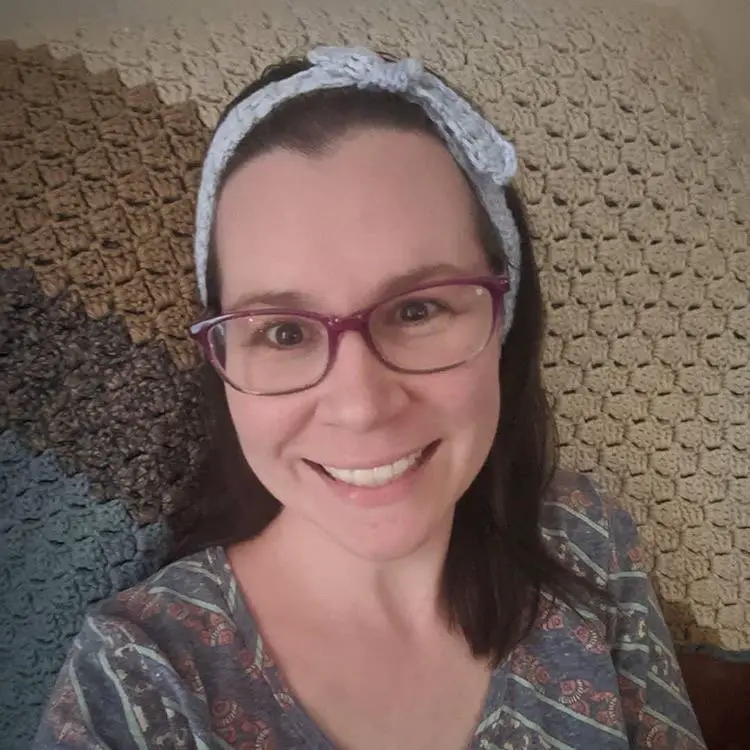 I hope you enjoy making this pattern as much I enjoyed designing it! Be sure and subscribe to my Newsletter for monthly Eco-Tips, what's happening with Eco-Minded Stitches and a bit of real life. I'd love to see what you've made! Use #ecomindedstitches on Instagram and I'll be sure and see what've you created.
Thank you,
Krystal
Other Designs From Eco-Minded Stitches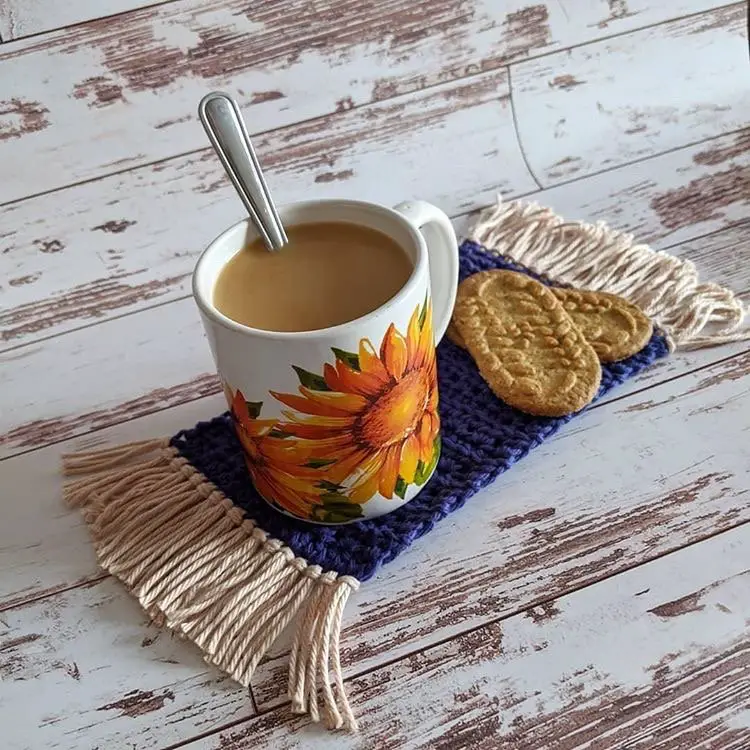 Website: https://ecomindedstitches.com/
Etsy: https://www.etsy.com/shop/EcoMindedStitches
Facebook: https://www.facebook.com/ecomindedstitches/
Instagram: https://www.instagram.com/eco.minded.stitches/
Pinterest: https://www.pinterest.com/ecomindedstitches/
Ravelry: https://www.ravelry.com/patterns/sources/krystal-amadors-ravelry-store
Join the
"Crochets By Trista Crochet Group" on Facebook
Follow Crochets By Trista on:
Facebook
 Instagram
Pinterest
 Etsy
 Ravelry
---
I'd love to hear from you! Don't hesitate to contact me. Let me know what you're working on or designs that you'd like to see in the future. Use the links above or email me at crochetsbytrista@gmail.com.