Welcome to the first pattern featured in the Frosting Collection, presented by Crochets By Trista.
I wanted to offer a set of FREE dishcloth patterns to help introduce the stitches I use in my designs.
Sweet And Simple Beginner Friendly Giveaway
Carroway Crochet is hosting the Sweet And Simple Beginner Friendly Giveaway Blog Hop February 2022. You can enjoy sweet and simple beginner friendly patterns from some great designers. Get all the details below.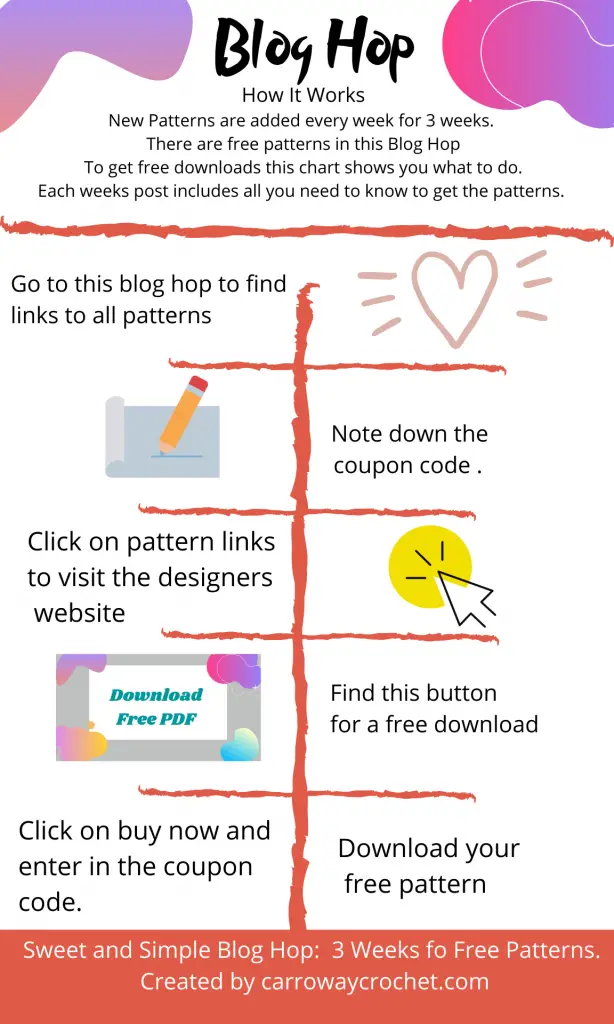 Frosting Collection Patterns:
Buttercream – Part 1 – Below
Cream Cheese – Part 2 – Here
Marshmallow – Part 3 – Here
Meringue – Part 4 – Here
Whipped Cream – Part 5 – Here
White Chocolate Ganache – Part 6 – Here
If you couldn't tell, each dishcloth is named after a different type of white frosting. I prefer white dishcloths because one, they go with my kitchen, and two they are easy to bleach if needed. Obviously you can do any color of your choosing.
Versatility
I love the versatility of dishcloths. They can be used in the kitchen to take care of the never ending pile of dishes. You can make the same dishcloth to match your bathroom and now it becomes a washcloth.
Dishcloths are sturdy enough to be used for the day, and then thrown in the wash with the rest of the towels.
I tend to replace all the used dishcloths and towels daily. Each morning I start with a fresh dishcloth and kitchen hand towels. The same goes for the bathroom. I know it adds more to the endless piles of laundry too, but its more hygienic.
The Yarn
For each dishcloth you will need approximately 60-70 yards of 100% cotton yarn. I knew that I would be making at least 6 dishcloths so I decided to buy a large cone of Lily Sugar 'N Cream. The cone contains 14 ounces and approximately 706 yards.
Other alternatives to the Sugar N' Cream would be: Hobby Lobby's I Love This Cotton, Knitpicks/WeCrochet's Caron's Cotton Cakes.
There are a few perks to buying a cone of the yarn. First, you won't have to worry about buying enough for all the dishcloths. Second, if you're able to use a coupon at your local craft store, it can be less than $10. Lastly, dye lots; you don't have to worry about making sure the dye lots match.
Supplies Needed
60-70 yards of 100% cotton yarn
I/5.50mm Measuring tape
Scissors
Yarn needle
I can usually get 2 dishcloths (without a border) from a small 2.5 ounce/ 120 yard ball of Sugar N' Cream in a solid color.
Stitches Used
Ch – Chain
Dc – Double Crochet
Sc – Single Crochet
Sl St – Slip Stitch
St – Stitch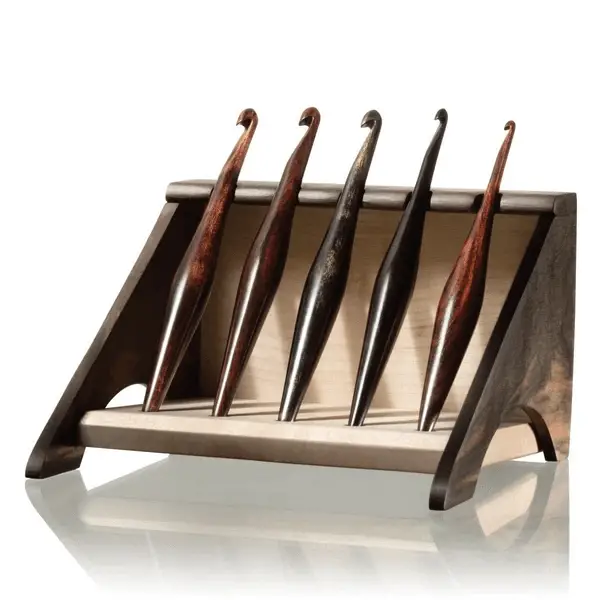 Notes
The finished dishcloth should measure to be approximately a 9″ x 9″ square. To make sure it is square, simply take a corner and fold it diagonally. I tend to line up the sides to estimate how many more rows I need to do, if any.
It is ok if your finished dishcloth isn't perfectly square. You're only washing dishes with it. One of the perks of dishcloths is that they don't have to be perfect. It's why they are great projects to learn new stitches with.
An optional border has been provided. Keyword being optional, refer back to previous paragraph. If my edges are a little wonky I usually do the border, but most of the time I just leave it the way it is. If you plan on selling them, then YES you should do the border.
A stitch count has been provided at the end of each row and shown in parenthesis.
Availability
An ad-free version of this pattern is available to purchase on Ravelry.
An ad-free version of all six patterns of the Frosting Collection is available to purchase on Ravelry and Etsy.
The Pattern
Ch 31
Row 1.) Sc in 2nd St from the hook and in each St across. (30)
Row 2.) Turn, Ch 1, Sc in 1st St, Dc in next St, * Sc in next St, Dc in next St * repeat from * across to last St. (30)
Row 3.) Turn, Ch 1, Sc in 1st Dc, Dc in next Sc, * Sc in next Dc, Dc in next Sc * repeat from * across to last St. (30)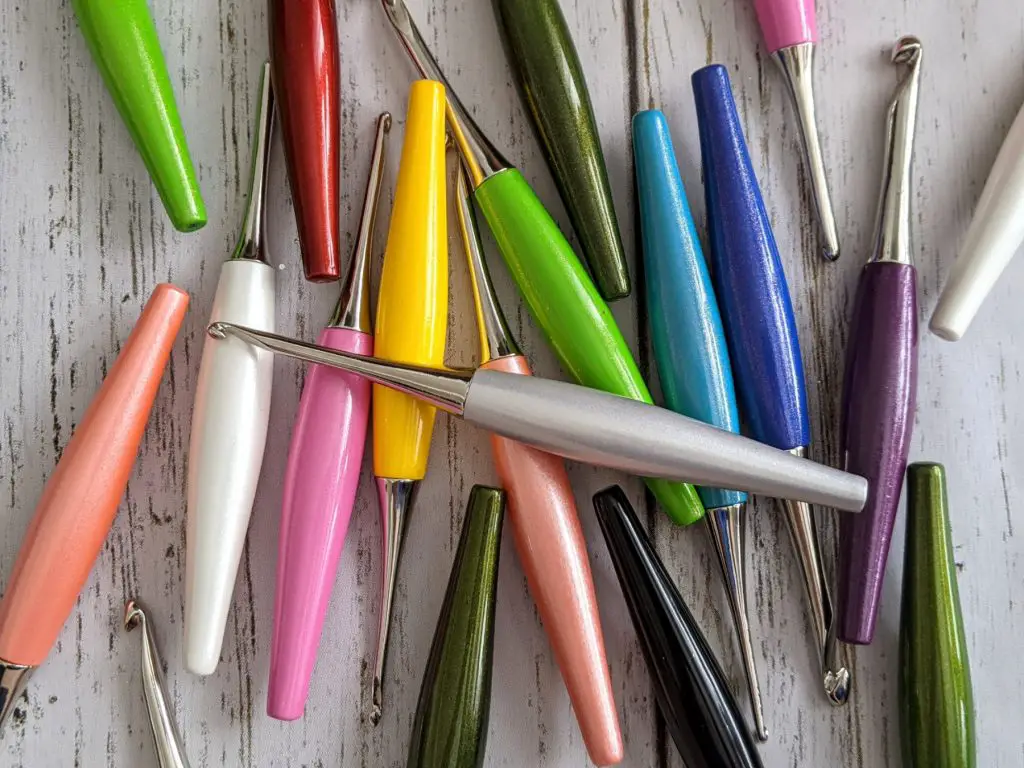 Row 4.) Turn, Ch 1, Sc in 1st St and in each St across. (30)
Repeat Rows 2-4 until square, ending with row 4.
Continue to optional border or finish off and weave in ends.
Optional Border
Ch 1, turn, Sc evenly around with 3Sc in each of the 4 corners, Sl St to 1st Sc.
Finish off and weave in ends.
Like The Buttercream Dishcloth? You'll Love These too!
---
Join the
"Crochets By Trista Crochet Group"
on Facebook
Follow Crochets By Trista on:
Facebook
 Instagram
Pinterest
 Etsy
 Ravelry
---
I'd love to hear from you! Don't hesitate to contact me. Let me know what you're working on or designs that you'd like to see in the future. Use the links above or email me at crochetsbytrista@gmail.com.
If you've purchased my designs in the past, leave a review. I want to know what you think.