***Post contains affiliate links- which means if you make a purchase from the links below, I will get a small percentage of the sales at no additional cost to you ***
Welcome to the Frosting Collection, presented by Crochets By Trista.
I wanted to offer a set of FREE dishcloths patterns to help introduce the stitches I use in my designs.
Frosting Collection Patterns:
Buttercream – Part 1 – Here
Cream Cheese – Part 2 – Here
Marshmallow – Part 3 – Here
Meringue – Part 4 – Here
Whipped Cream – Part 5 – Below
White Chocolate Ganache – Part 6 – Here
If you couldn't tell, each dishcloth is named after a different type of white frosting. I prefer white dishcloths because one, they go with my kitchen, and two they are easy to bleach if needed. Obviously you can do any color of your choosing.
Whipped Cream
So I've tempted you with all these pictures of the dishcloths with a bowl of fresh juicy strawberries. What goes with those strawberries better than fresh whipped cream?
I'm going to tell you, or should I just show?! It's fresh cream puffs!!!!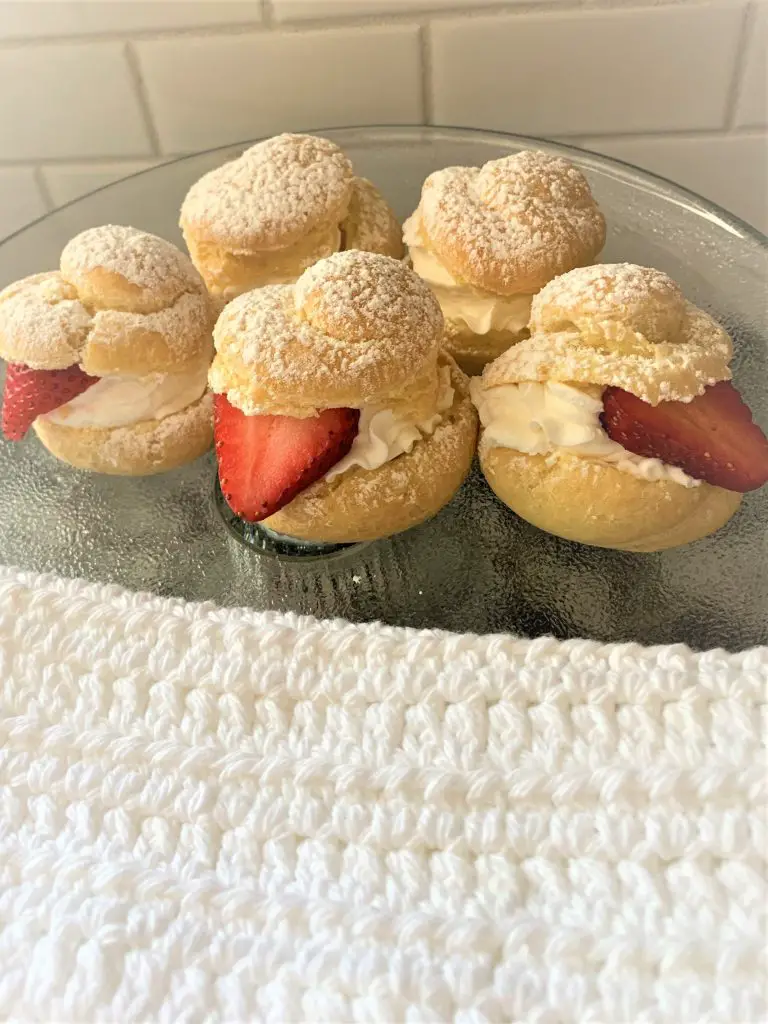 Yes, they were as good as they look. They were so easy to make but took a lot of work, I couldn't crochet for almost an hour because my arm was so tired.
Pattern Notes
A stitch count has been provided at the end of each row.
The border is optional. I personally make mine without, but I know that some like the border.
The finished dishcloth should measure to be approximately a 9″ x 9″ square. To make sure it is square, simply take a corner and fold it diagonally. I tend to line up the sides to estimate how many more rows I need to do, if any.
Supplies Needed
60-70 yards of 100% cotton yarn
I/5.50mm crochet hook
Measuring tape
Scissors
Yarn needle
I can usually get 2 dishcloths (without a border) from a small 2.5 ounce/ 120 yard ball of Sugar N' Cream in a solid color.
Stitched Used
Ch – Chain
Ehdc – Extended Half Double Crochet
Sc – Single Crochet
Sl St – Slip Stitch
St – Stitch
Stitch Definition
Ehdc – Extended Half Double Crochet: YO, insert hook in to stitch, YO and pull (3 loops), YO and pull through 1st loop (3 loops), YO and pull through all 3 loops.
Availability
An ad-free version of this pattern is available to purchase on Ravelry.
An ad-free version of all six patterns of the Frosting Collection is available to purchase on Ravelry and Etsy.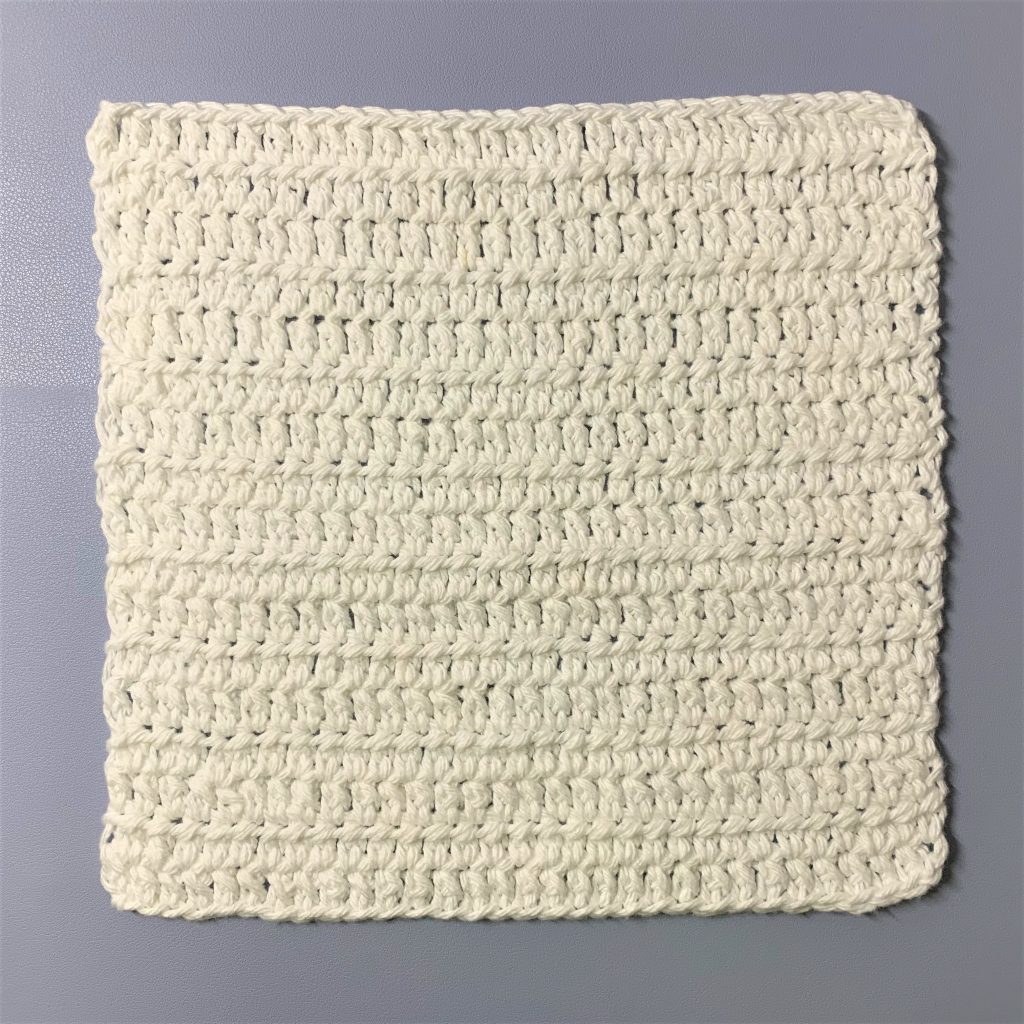 The Pattern
Ch 31
Row 1.) Ehdc in 2nd Ch from the hook and each St across. (30)
Row 2.) Turn, Ch 1, Ehdc in 1st St and each St across. (30)
Repeat row 2 until square.
Continue to optional border.
Finish off and weave in ends.
Optional Border
Ch 1, turn, Sc evenly around with 3Sc in each of the 4 corners, Sl St to 1st Sc.
Finish off and weave in ends.
---
Join the
"Crochets By Trista Crochet Group" on Facebook
Follow Crochets By Trista on:
Facebook
 Instagram
Pinterest
 Etsy
 Ravelry
---
I'd love to hear from you! Don't hesitate to contact me. Let me know what you're working on or designs that you'd like to see in the future. Use the links above or email me at crochetsbytrista@gmail.com.
If you've purchased my designs in the past, leave a review. I want to know what you think.