If you've been following Crochets By Trista for a while you know that I'm a sucker for a good bag. I wanted a cute bag that showed off the beautiful built in stitch design but could still hold a notebook and book or Kindle.
The Granny Square Tote Bag is my first pattern that has a good amount of sewing. I loved making all the pieces, I wasn't a fan of sewing them all together at first. After a few square I got into a rhythm and it seemed to go by quickly.
***Post contains affiliate links – which means if you make a purchase from the links below, I will get a small percentage of the sales at no additional cost to you.***
Stitching With Granny Event

The Queen of the modern granny square, Cosy Rosie UK, is hosting the Stitching With Granny Event August 1st through the 15th. There will be 15 BRAND NEW patterns featured that include the beautiful granny stitch.
Each day a new design will be featured and you can get the pattern for 50% using the coupon code found HERE. The coupon is only available for the featured day.

Stitching With Granny Pattern Bundle
You can purchase all 15 featured pattern for only $9.95 with the Stitching With Granny Pattern Bundle!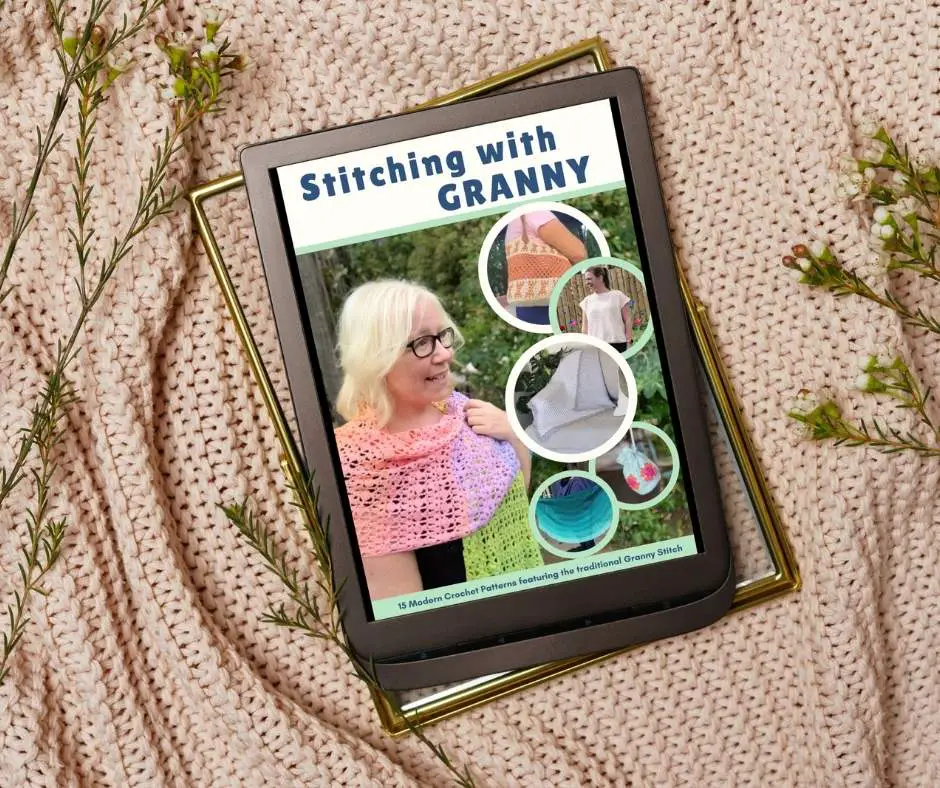 The Yarn
The yarn that I used for the Granny Square Tote Bag was Uptown Worsted from Universal Yarn. This was the first time using this yarn and I absolutely loved it.
Uptown Worsted is anti-pilling, which is a plus with an item you'll be using all the time. It is super soft and will probably be a new favorite yarn once you try it. I know I'll be using it again.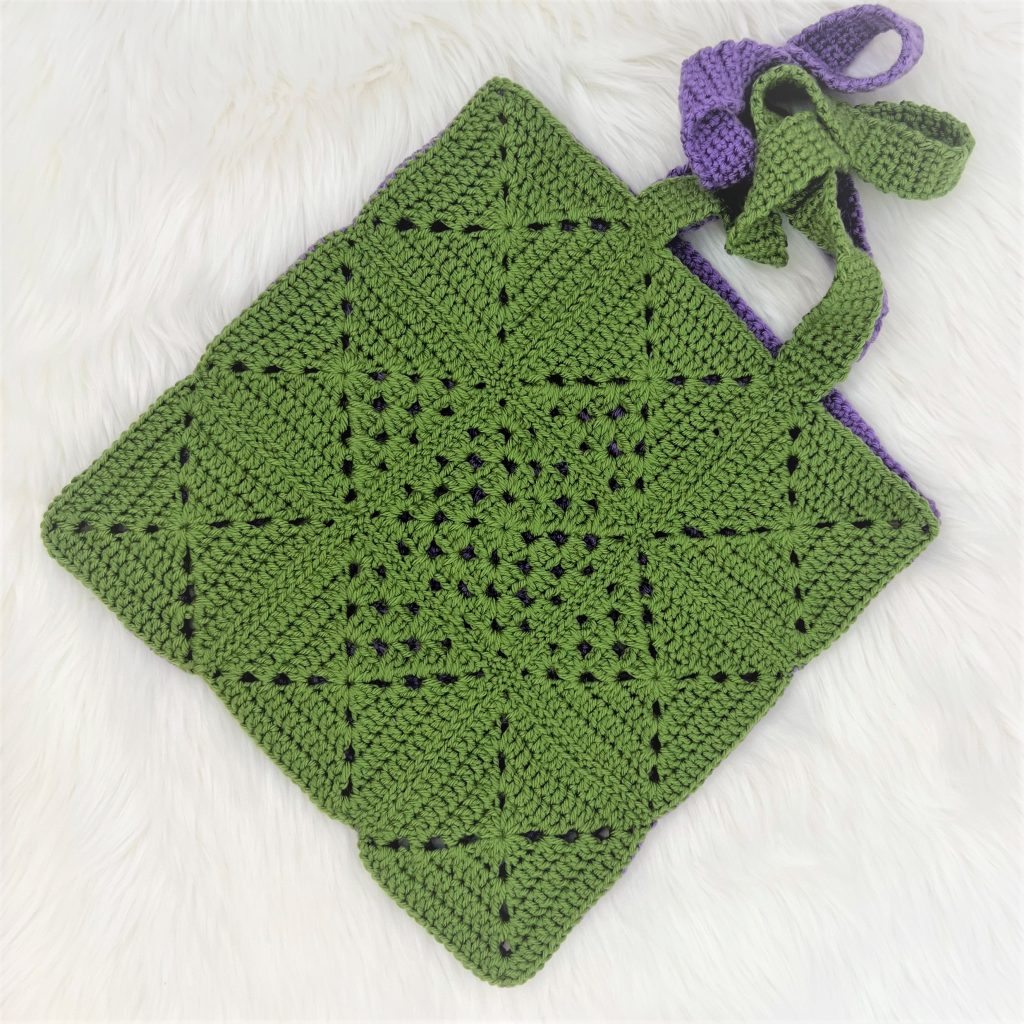 Supplies Needed
The supplies you'll need to make the Granny Square Tote Bag for yourself include:
500 yards Universal Yarns Uptown Worsted
G/4.00mm crochet hook
Scissors
Measuring tape
Yarn needle
Blocking materials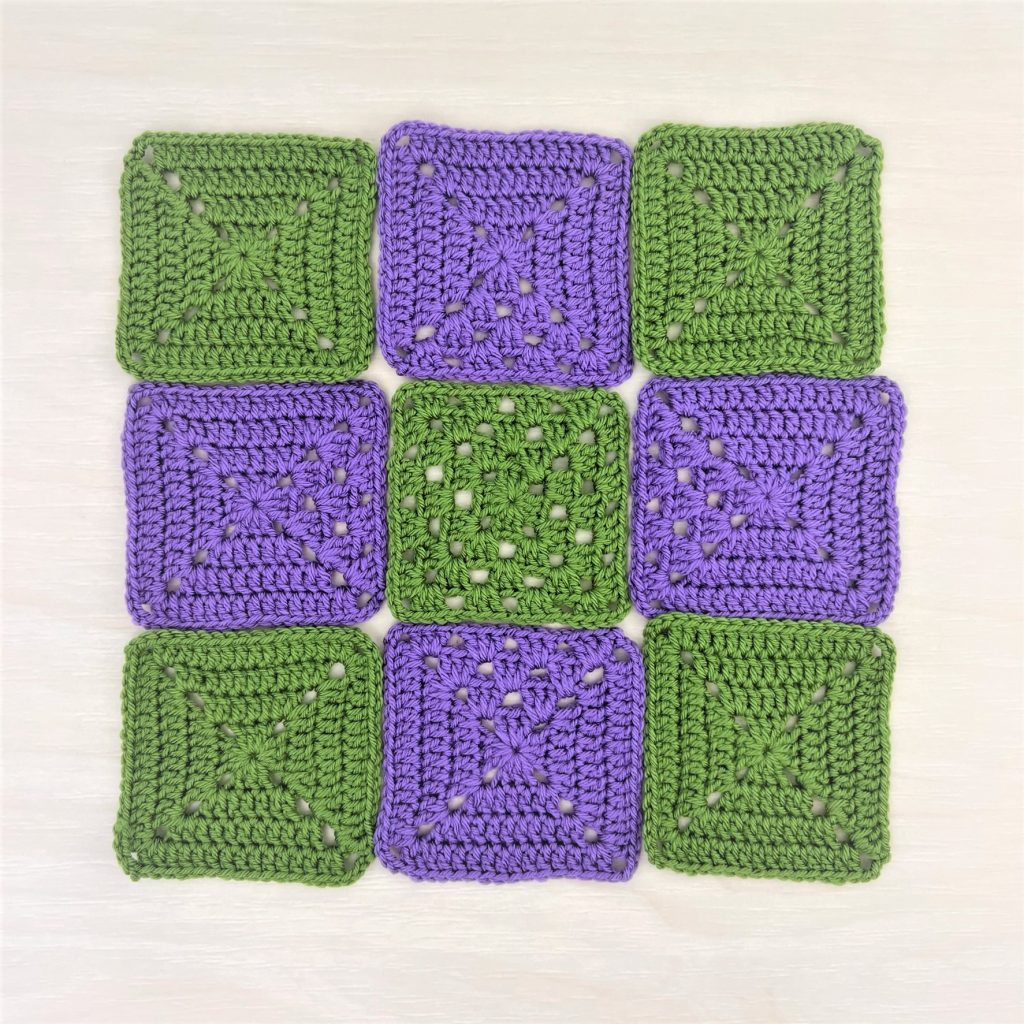 I needed two skeins of each color to make my Granny Square Tote Bag. If you're going to use one color 3 skeins should be good. Each side uses approximately 230 yards.
The colorways used were Lavender (purple) and Olive (green).
Stitches Used
You'll need to know that following stitches:
Ch – Chain
Dc – Double Crochet
Sdc – Starting Double Crochet
Sk – Skip
Sl St – Slip Stitch
Sp(s) – Space(s)
St(s) – Stitch(es)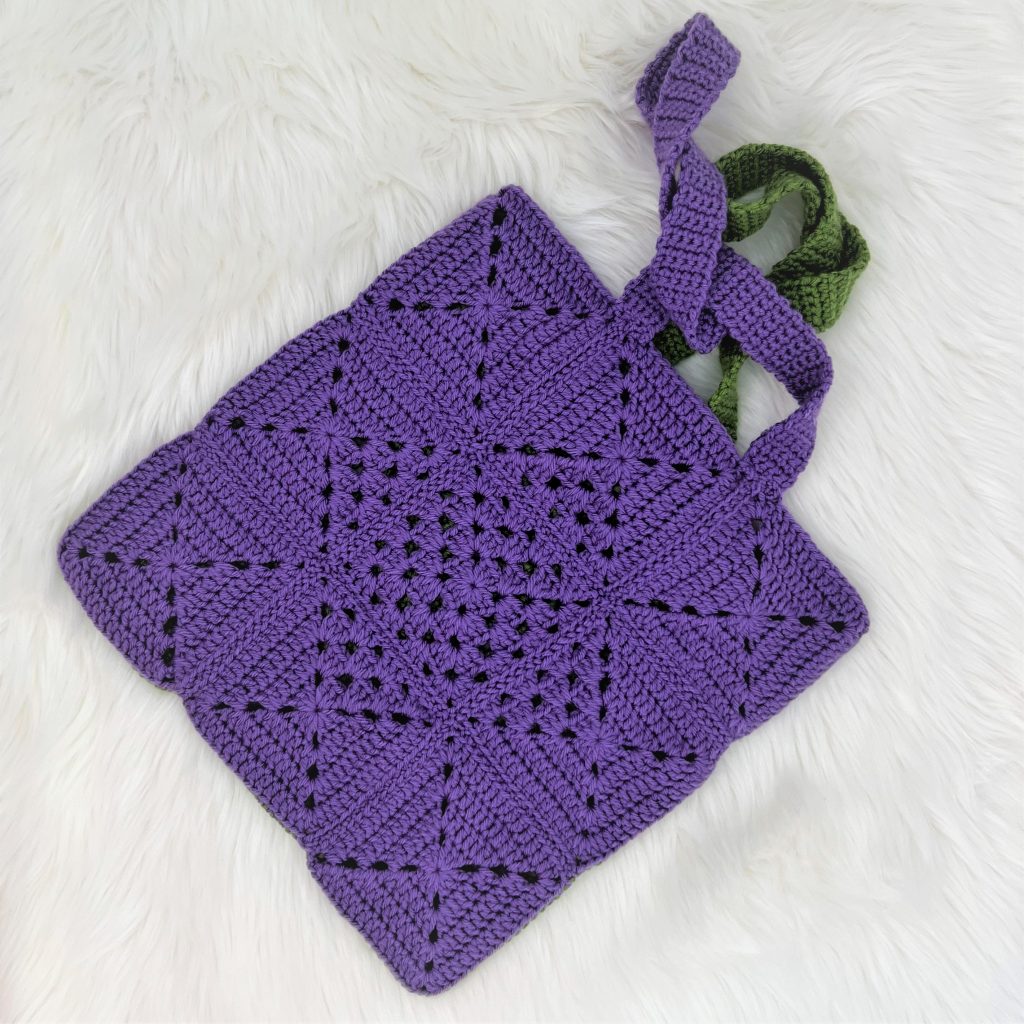 Stitch Definition
Starting Double Crochet – (also known as Long Chain Double Crochet or Chainless Starting Double Crochet.) Pull up your loop to the height of your usual Double Crochet. Yarn over, insert into the 1st St, yarn over, pull through the Stitch, yarn over, pull through two loops on the hook, yarn over, pull through the remaining two loops on your hook. You could also use this method:
Gauge & Finished Size
Gauge: 4 rounds = 4"
Each square should measure 4″ across the middle of each square.
Size: Approx. 12" x 12"
Once sewn together each side of the bag should measure approximately 12″ by 12."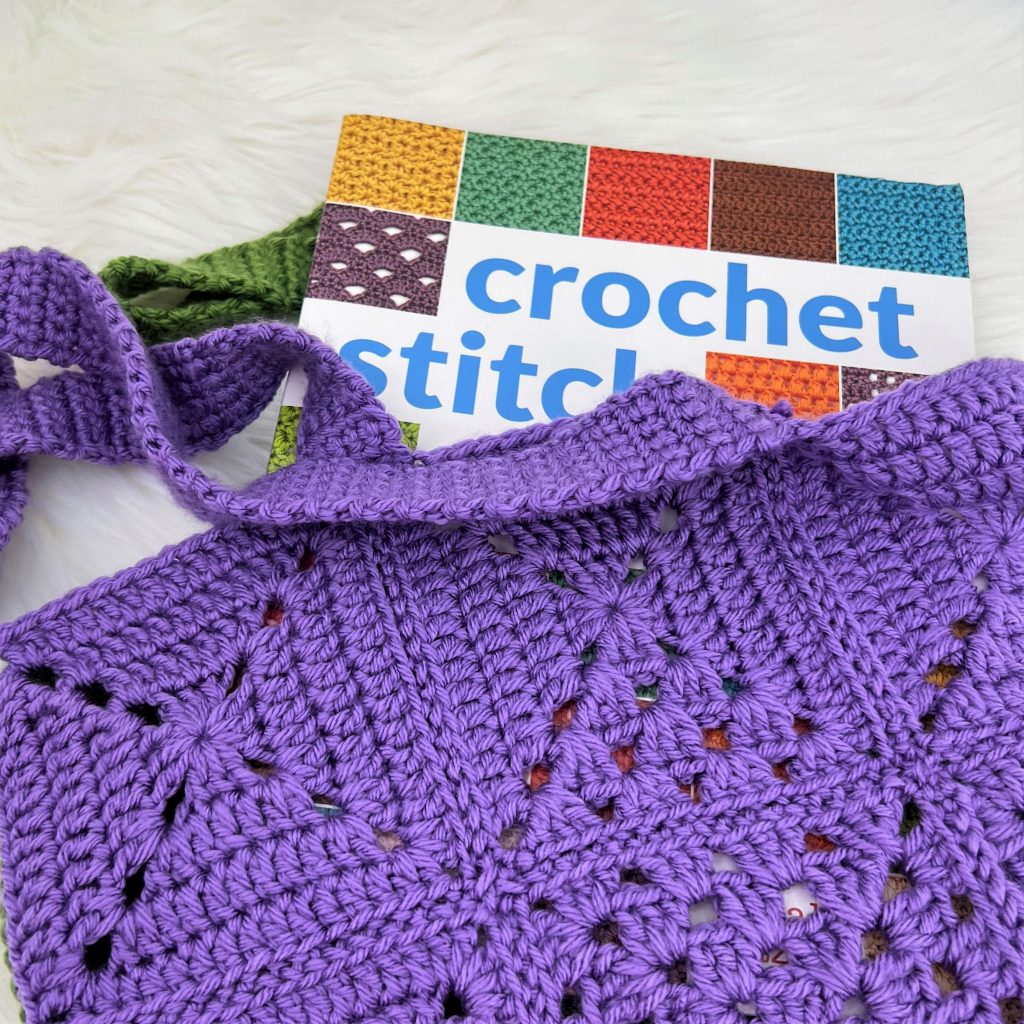 Pattern Notes
Written in US crochet terms.
The Sdc can be substituted with a Ch 3.
Blocking isn't necessary but advised. It will make connecting the squares easier.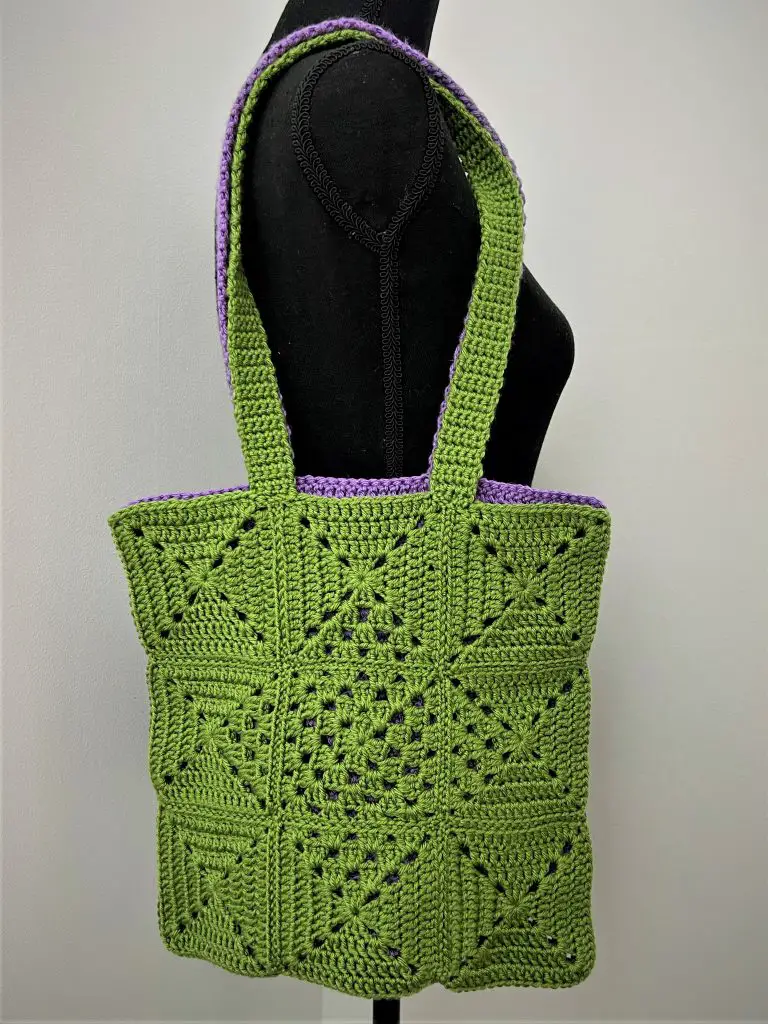 Availability
The Granny Square Tote Bag can be purchased on Ravelry and Etsy.
As part of the Stitching With Granny Event you can get the Granny Square Tote Bag for 50% off using the code found HERE on August 5th.

Don't forget that you can also purchase all 15 featured patterns for only $9.95 in the Stitching With Granny Pattern Bundle.

Do you want to see more patterns featuring the granny stitch? You'll love this Modern Granny Pattern Collection for $12!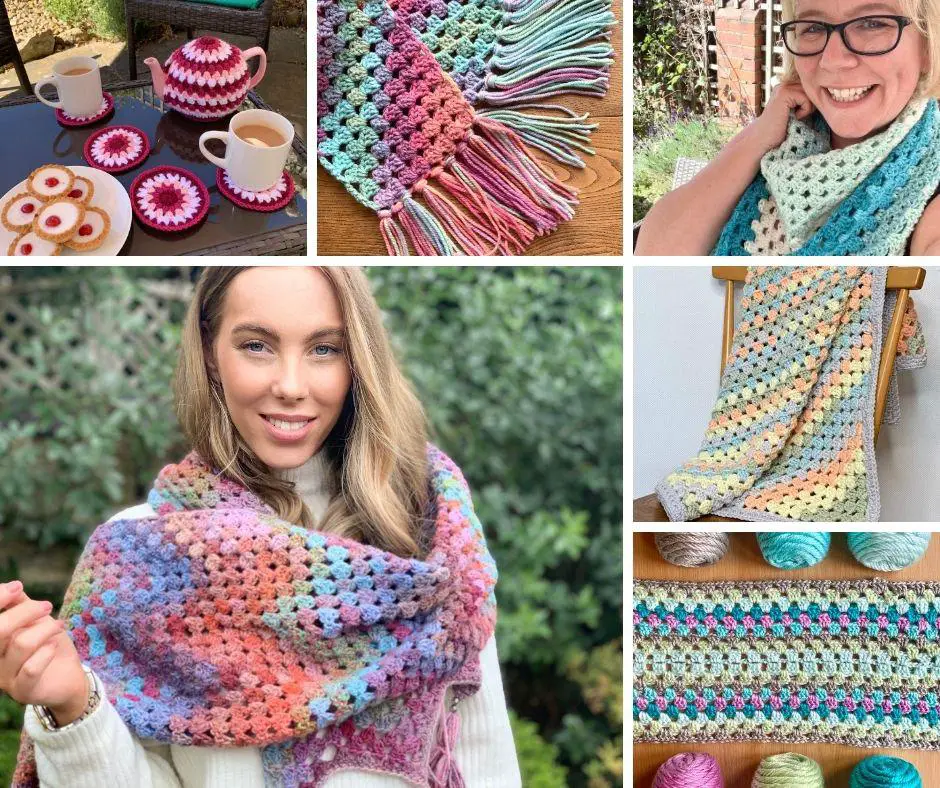 ---
Follow Crochets By Trista on:
Facebook
Instagram
Pinterest
Ravelry
Etsy
Ribblr
Love Crafts
Join the
"Crochets By Trista Crochet Community"
on Facebook.
I'd love to hear from you! Don't hesitate to contact me.  Let me know what you're working on or designs you'd like to see in the future.  Use the links above or email me at crochetsbytrista@gmail.com 
If you've purchased my designs in the past, leave a review.  I want to know what you think.