***Post contains affiliate links- which means if you make a purchase from the links below, I will get a small percentage of the sales at no additional cost to you ***
Your new favorite cardigan for your favorite season(s). Available in 7 sizes ranging from woman's XS to 3X. Adjustable to fit your personal preferences for both the length of the body and the sleeves.
The Inspiration
I was inspired by my cousin Madison who is in her early 20's.  I'm always seeing her in comfy, neutral colored sweaters.  I then had the idea of designing a cardigan that would be perfect for the seasonal transitions of New England. 
When it came to the actual design, I wanted something that looked like it was made in all one piece and symmetrical.  A pet peeve of mine is being able to see the seams or transitions from the bodice to the sleeves. I also didn't want it all one stitch through the whole item.  The results of my brainstorming sessions is what is now the Madi Cardi.
I started this project in October 2019 thinking that it would be perfect for spring, but look what happened in spring of 2020. I had to adjust my plan and I switched gears to have the Madi Cardi be a fall release instead.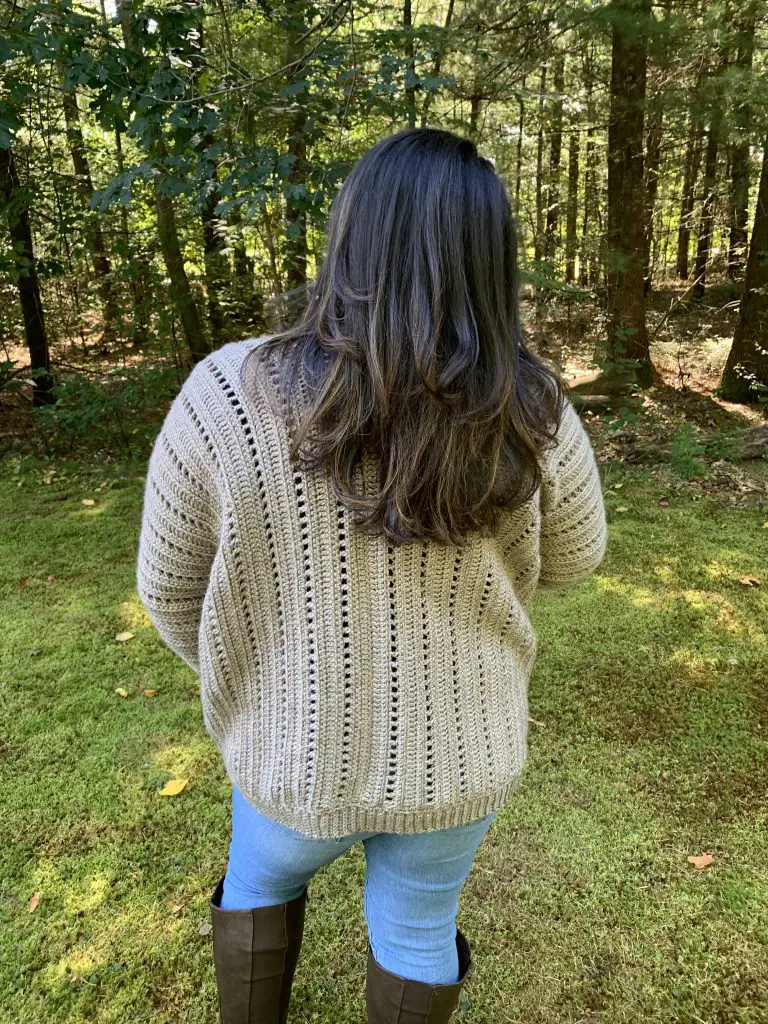 The Yarn
I had actually known what yarn I was going to use before I came up with the stitch pattern.  While strolling the yarn aisles at my local craft store, I stumbled upon Lion Brand's Heartland in the colorway Grand Canyon.  It's the perfect shade of tan and beige in a heathered look.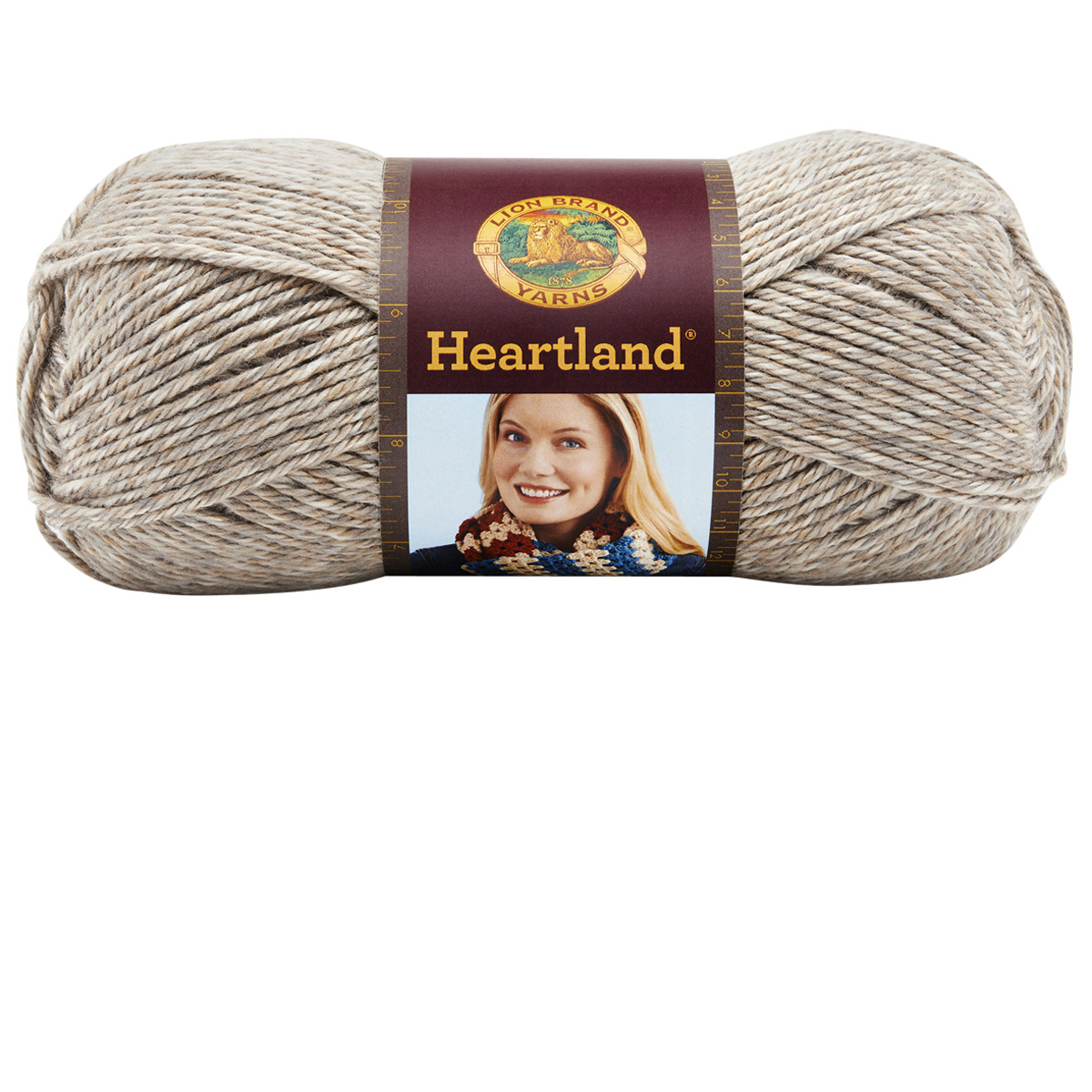 As you can see, the yarn is gorgeous. You can purchase the yarn in a variety of different colors using my affiliate link at Michael's Arts and Crafts.
Supplies
For supplies you will need:
– Measuring tape
– Scissors
– Yarn needle
– 5.50 mm crochet hook – I used my Tulip Crochet Hook from Leither Co.
– #4 worsted weight yarn
Listed below you will find the approximate yardage of yarn need for each size. These are approximate amounts and your actual yardage total could be more or less. Sizing is based on bust size.
XS – Bust size of 30″ – 1200 yards
S – Bust size of 34″ – 1400 yards
M – Bust size of 38″ – 1600 yards
L – Bust size of 42″ – 1800 yards
XL – Bust size of 46″ – 2000 yards
2X – Bust size of 50″ – 2200 yards
3X – Bust size of 54″ – 2400 yards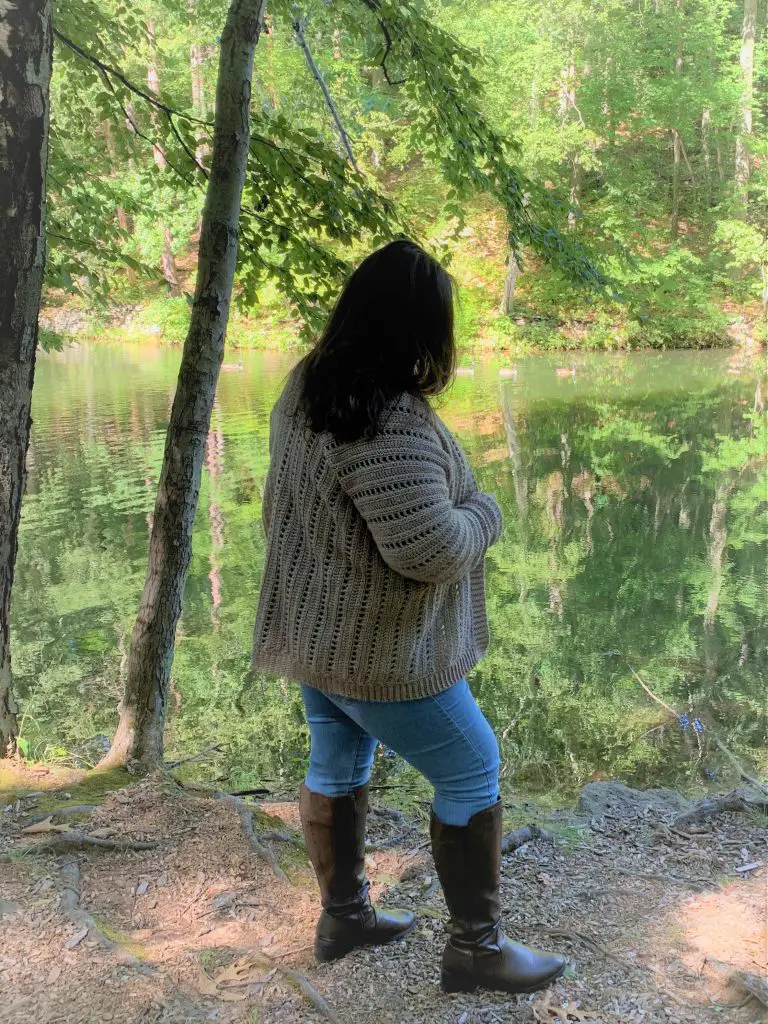 Stitches Used
This list looks really intimidating but it is NOT. Below you will find ALL the stitches used in the Madi Cardi.
Blo – Back Loop Only
Ch(s) – Chain(s)
Dc – Double Crochet
Dc2Tog – Double Crochet 2 Together
Hdc – Half Double Crochet
Lhdc – Linked Half Double Crochet
Sc – Single Crochet
Sdc – Starting Double Crochet
Sk – Skip
Sl St – Slip Stitch
Sp(s) – Space(s)
St(s) – Stitch(es)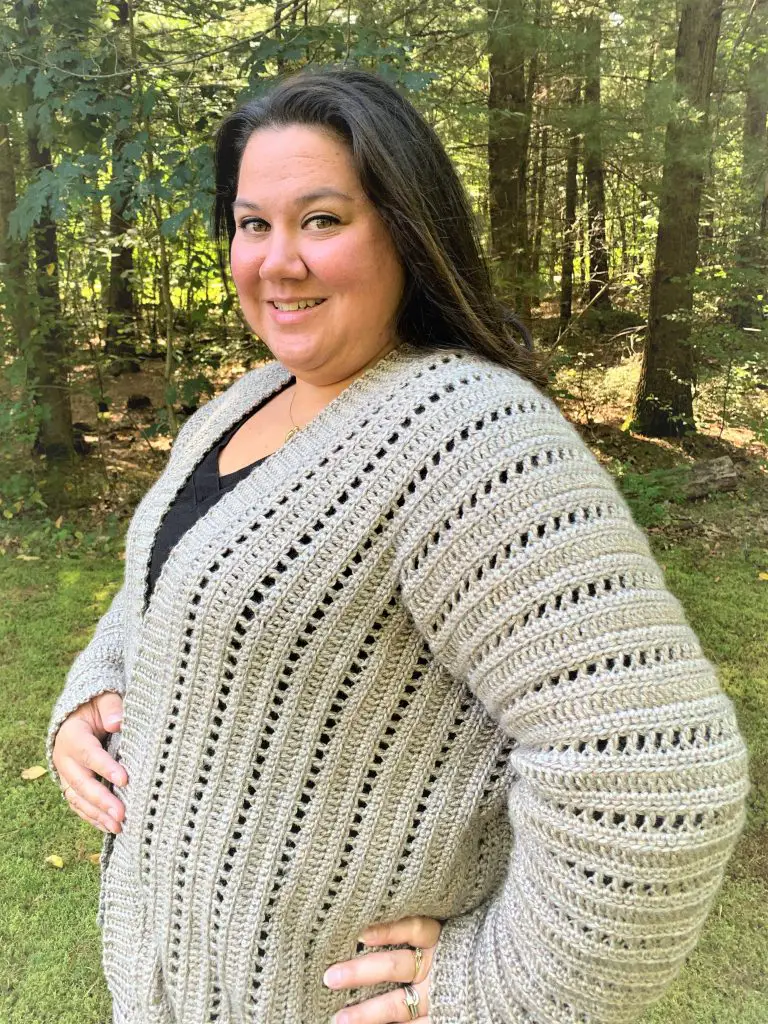 Stitch Definitions
Stitch definitions have been provided in the written pattern for Dc2Tog, Lhdc, and Sdc.
I've used the Linked Half Double Crochet and the Starting Double Crochet in previous designs. The Linked Half Double Crochet stitch was used in the White Chocolate Ganache Dishcloth Pattern which includes a photo tutorial of how to do the stitch. The Starting Double Crochet stitch was used in the Cream Cheese Dishcloth Pattern. Both patterns are part of the Frosting Collection.
Pattern Notes
Worked in easy steps:
1. Panels (2)
2. Sewing of panels
3. Sleeves
4. Trim
A diagram has been provided in the pattern for assembling the panels.
Instructions for a gauge swatch have been provided.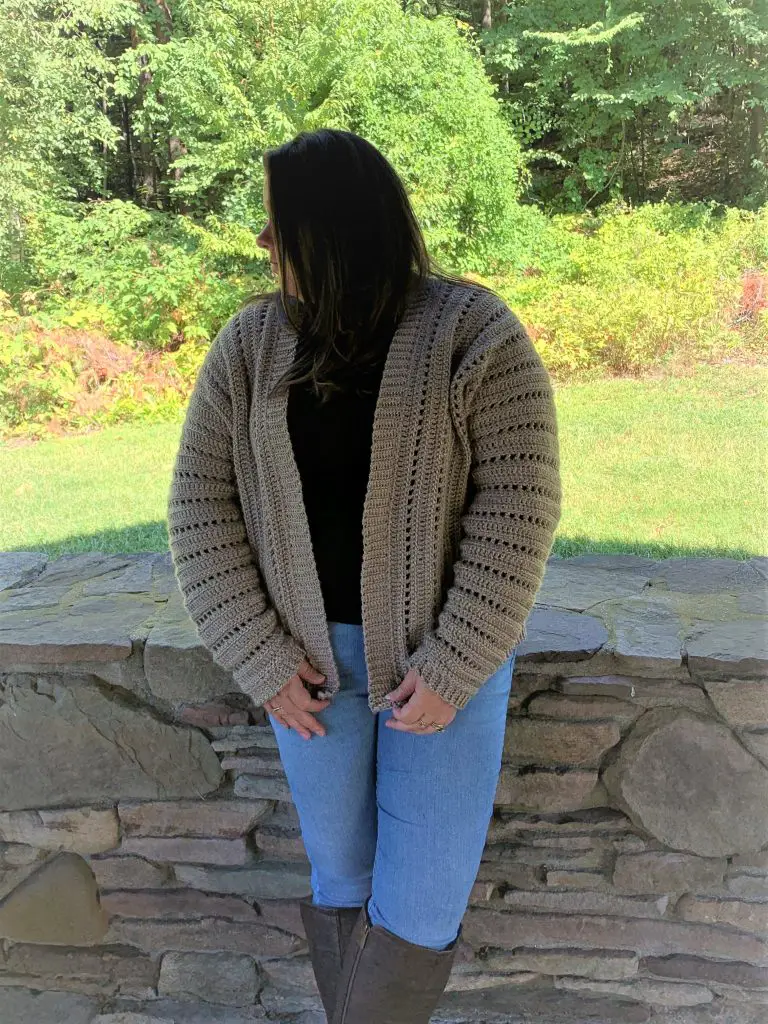 Availability
The pattern is available on both Etsy and Ravelry.
Be sure to tag #crochetsbytrista on Instagram, I'd love to see your progress.
Follow Crochets By Trista on:
Facebook
Instagram
Pinterest
Ravelry
Etsy
Ribblr
Love Crafts
Join the
"Crochets By Trista Crochet Group"
on Facebook
---
I'd love to hear from you! Don't hesitate to contact me. Let me know what you're working on or designs that you'd like to see in the future. Use the links above or email me at crochetsbytrista@gmail.com.