If you've read my bio in the "About" section, you would have read that I test patterns for other designers. Many of the patterns I've tested have been garments.
The Sizzling Summer Tee is my first garment design, but not my last. I hope you love it as much as I do.
If you have been crocheting for a while and have always wanted to make a garment, THIS IS THE PATTERN FOR YOU!
The instructions are easy to follow and I've done my best to make it as simple as possible. Should you have questions while making it, I'm usually always available to help you through it.
My Inspiration
The Sizzling Summer Tee was inspired by my Madi Cardi, set to release Fall 2020. While the cardigan is intended to be worn in autumn and winter, I wanted something that would be perfect for spring and summer.
Although the two patterns are similar, there are enough differences that they shouldn't have the same names. So after a lengthy inner dialogue, I've decided to keep them separate.
That means, eventually, there will be a Sizzling Summer Collection!!!
The Yarn
The yarn I decided to use was "Lion Brand's ZZ Twist" in the color way Periwinkle. A few months ago I was able to score 10 skeins for $1.00 each, normal price is roughly $5.00! For that price, I had to give it a try.
This was the first time I've used this yarn. I'm not too sure if I'll purchase anymore. I liked it, but it is not my favorite.
I'm glad that I gave the yarn a try, it worked perfectly for the Sizzling Summer Tee.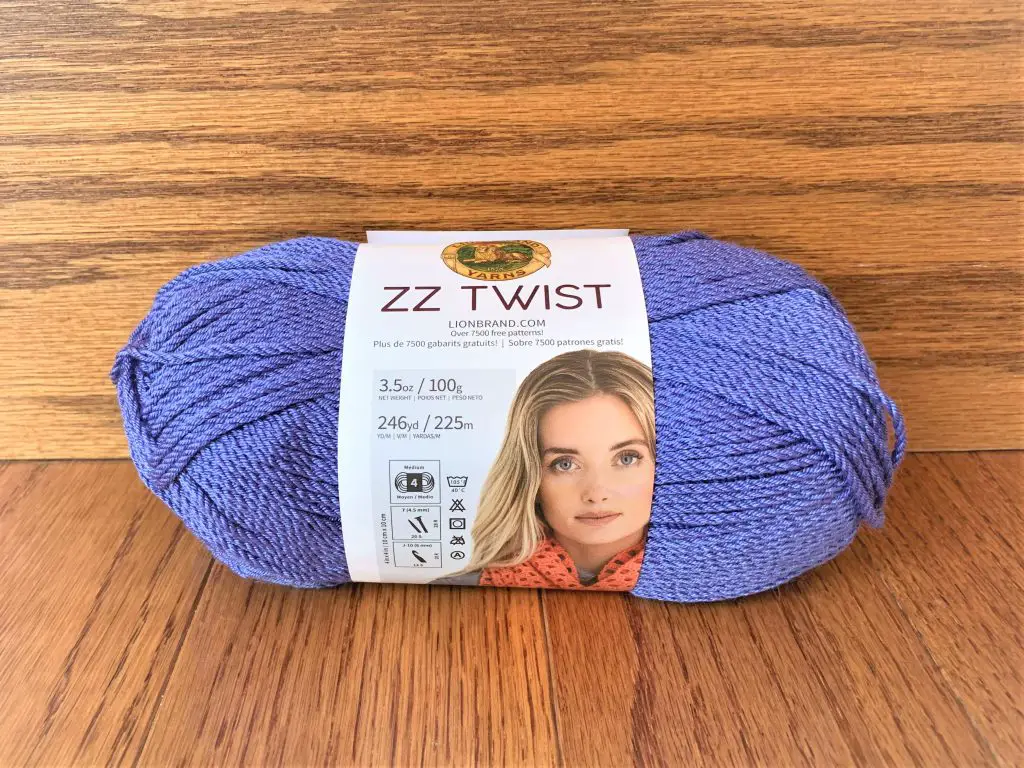 ZZ Twist is listed as a #4 weight, but it is on the lighter side of the worsted weight category. A few substitutes would be Lion Brand Comfy Cotton Blend, Caron Cotton Cakes, and Caron Simply Soft.
When substituting the yarn, make sure that you do a gauge swatch to make you will end up with the intended measurements.
Sizes and Yardage Needed
The sizes range from XS to 3X. There is a positive ease of 2″ and will be loose fitting. Below you will see the sizes available, the range of your bust size, the finished measurements for that size and the estimated yardage needed.
XS – 28-30″ – 32″ – 700 yards
S – 32-34″ – 36″ – 800 yards
M – 36-38″ – 40″ – 900 yards
L – 40-42″ – 44″ – 1000 yards
XL – 44-46″ – 48″ – 1100 yards
2X – 48-50″ – 52″ – 1200 yards
3X – 52-54″ – 56″ – 1300 yards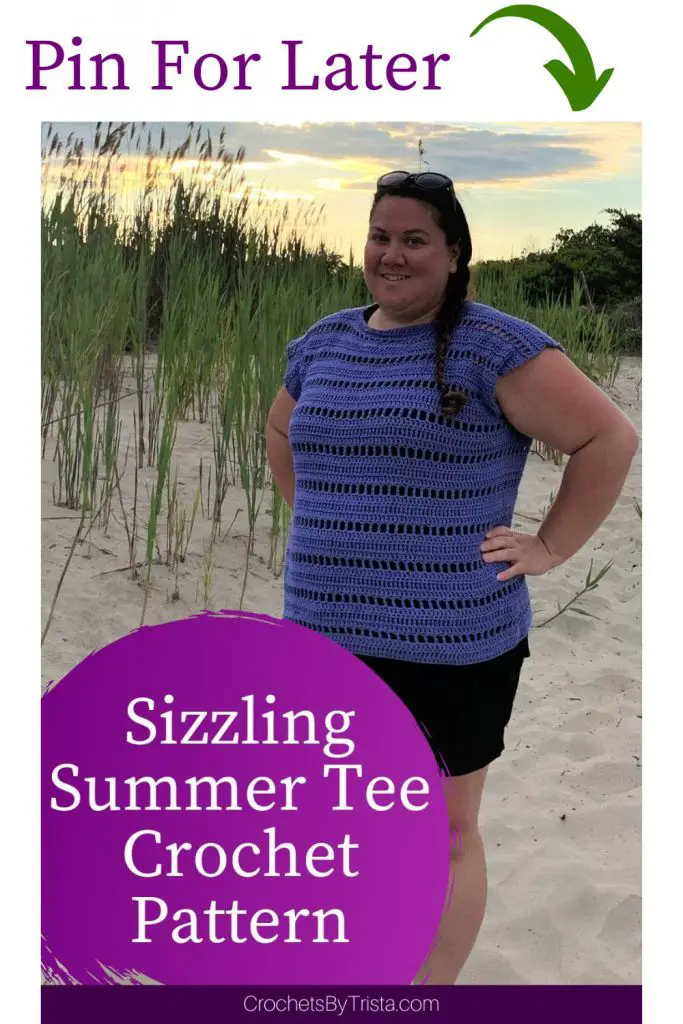 Supplies
The supplies needed are:
– The appropriate amount of yarn for your size
– I/5.50mm crochet hook
– Measuring tape
– Stitch markers
– Yarn needle
Stitches & Abbreviations
Ch – Chain
Dc – Double Crochet
Rs – Right side
SDc – Starting Double Crochet
STr – Starting Treble Crochet
Sl St – Slip Stitch
Sk – Skip
St(s) – Stitch(es)
Tr – Treble Crochet
Ws – Wrong side
Stitch Definitions
Starting Double Crochet – (also known as Long Chain Double Crochet or Chainless Starting Double Crochet.)  Pull up your loop to the height of your usual Double Crochet. Yarn over, insert into the 1st St, yarn over, pull through the Stitch, yarn over, pull through two loops on the hook, yarn over, pull through the remaining two loops on your hook.
Starting Treble Crochet – Worked the same way as the Starting Double Crochet but the height of a Treble Crochet.
Pattern Notes
Pattern is written in American Crochet Terms.
Ch 3 can be substituted for SDc.
Ch 4 can be substituted for STr.
Construction consists of:
working the body in turned rounds from the bottom up & two panels for the upper body to form armholes.
Sizes – Pattern is worked in size XS with additional sizes in parentheses.
I advise starting a new skein/ball to do the back panel, just in case you need to add to the front panel for a proper fit.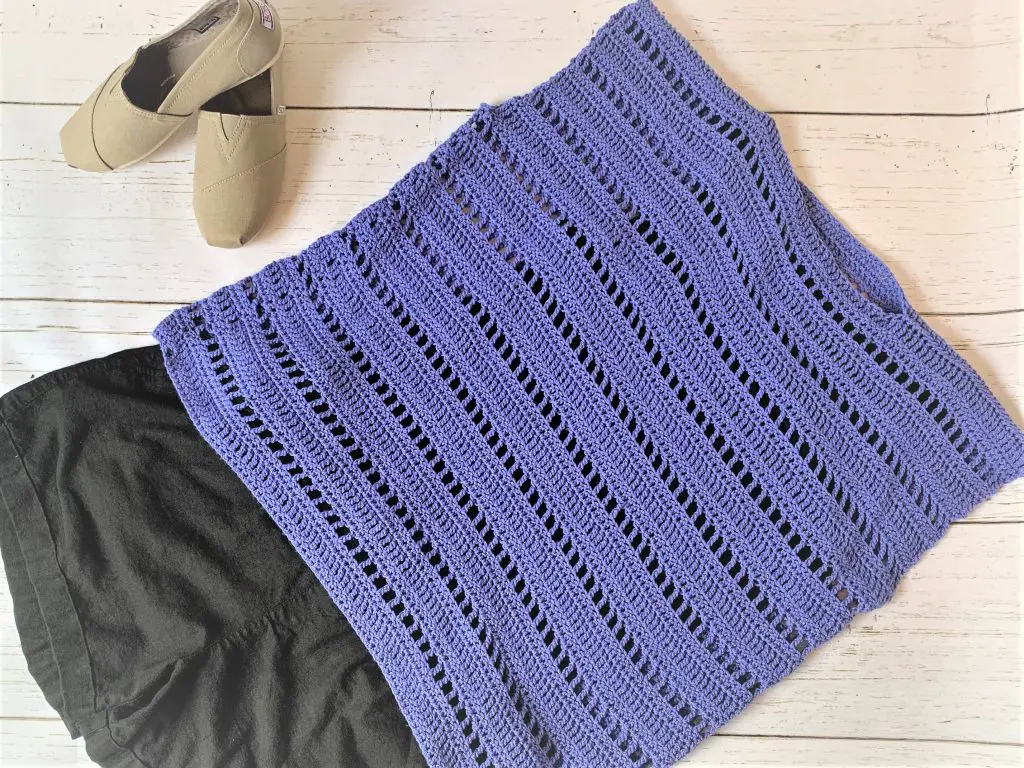 My Favorite Part
My favorite part about this design is that its completely adjustable to your liking. If you wanted it to fall more to your waist instead of your hips, go for it. If you want it slightly longer than your hips to cover your bum a little bit more, go for it.
The Sizzling Summer Tee makes the perfect beach coverup too!
Availability
The Sizzling Summer Tee Pattern is available to purchase on Etsy and Ravelry.
---
Join the
"Crochets By Trista Crochet Group"
on Facebook.
Follow Crochets By Trista on:
Facebook
 Instagram
Pinterst
 Etsy
 Ravelry
---
I'd love to hear from you! Don't hesitate to contact me. Let me know what you're working on or designs that you'd like to see in the future. Use the links above or email me at crochetsbytrista@gmail.com.
If you've purchased my designs in the past, leave a review. I want to know what you think.