Do you need a quick gift idea that can be functional or decorative? Then this pattern is exactly what you need!
There are so many possibilities of how you can use this mason jar cozy. Its not just for Christmas but for all year.
Mason jars can be used for just about anything; a vase, a glass, a candle holder, a pencil (or crochet hook) holder, and a storage container.
WARNING: Candle Safety – If using a traditional tea light please practice the follow the guidelines below.
– Never leave a burning candle unattended.
– Never burn a candle on or near anything that might catch fire.
– Keep candles out of the reach of children and pets.
***Post contains affiliate links – which means if you make a purchase from the links below, I will get a small percentage of the sales at no additional cost to you ***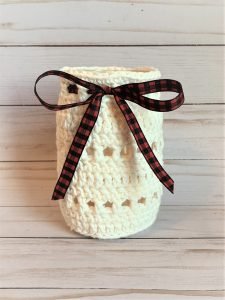 Featured Design
Featured in the 2020 Holly Jolly Crochet Christmas Blog Hop hosted by Nana's Crafty Home. Tuesday, December 8th 2020, the Madi Mason Jar Cozy will be available as a PDF download for FREE.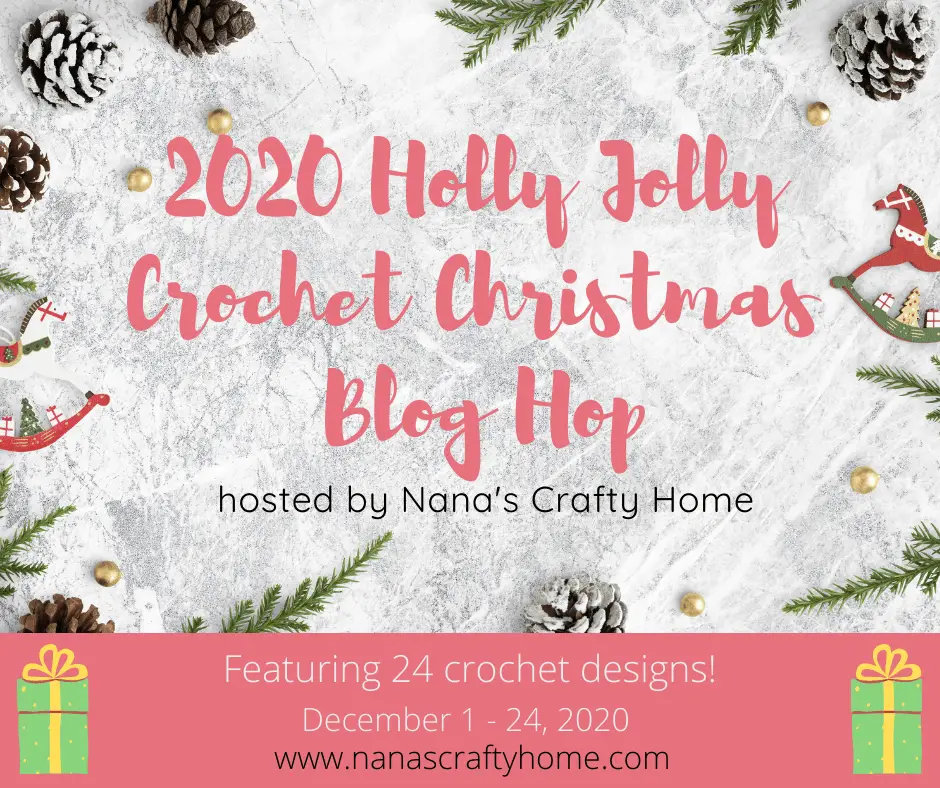 I'm really excited to be a part of this blog hop with all these other amazing designers. Be sure to check back daily at Nana's Crafty Home to see the featured item. All participating designers are listed below.
The Yarn
I used 100% cotton worsted weight yarn to make my cozies. When using as a glass the cotton yarn will be more absorbent of any condensation on the jar.
You can use any worsted weight yarn you have in your stash. Perfect to use up any partial skeins you may have laying around.
Supplies
– Approximately 100 yards worsted weight yarn – Sugar 'n Cream
– H/5.0mm crochet hook – Leither Co.
– Scissors
– Tape measure
– Yarn needle
– Mason jar or candle holder
– (Optional) ribbon, lights, flameless tea lights, or flowers.
Stitches Used
BLs – Back Loops
Ch – Chain
Dc – Double Crochet
Hdc – Half Double Crochet
Lhdc – Linked Half Double Crochet
MC – Magic Circle
SDc – Starting Double Crochet
Sk – Skip
Sl St – Slip Stitch
Sp(s) – Space(s)
St(s) – Stitch(es)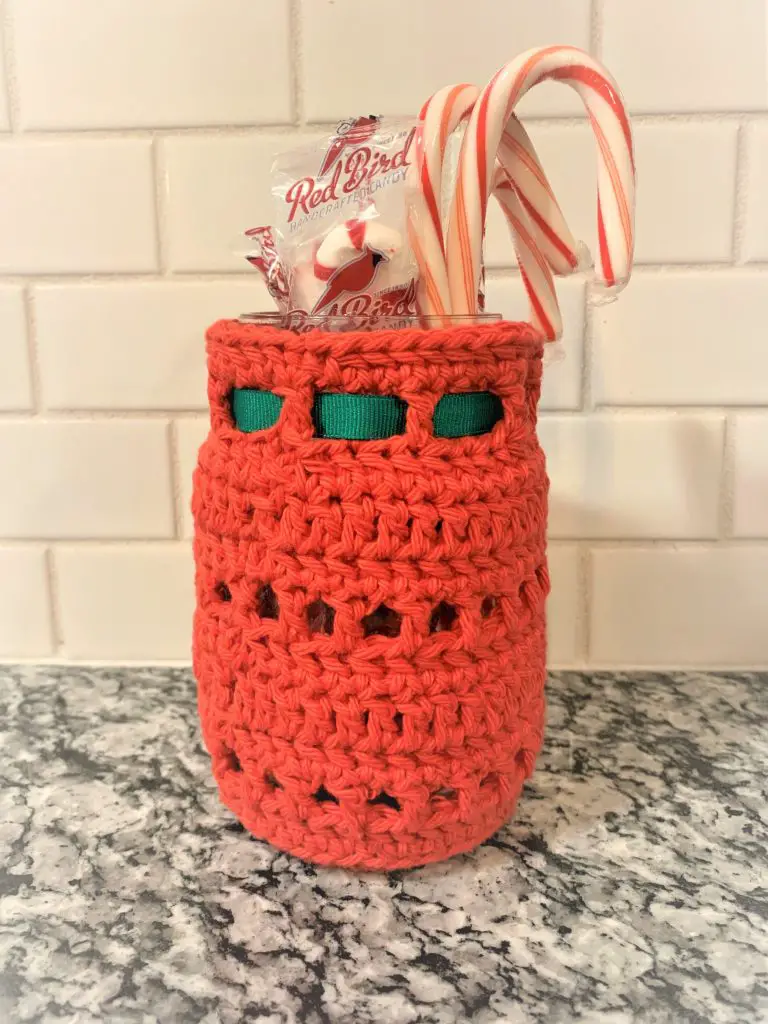 Stitch Definitions
Lhdc – Linked Half Double Crochet – Insert hook through the bottom leg (bar) of the previous stitch. YO and pull up a loop (2 loops). Insert hook into next stitch, YO and pull up a loop (3 loops), YO and pull through all 3 loops.
Starting Double Crochet – (also known as Long Chain Double Crochet or Chainless Starting Double Crochet.) Pull up your loop to the height of your usual Double Crochet. YO, insert into the 1st St, yarn over, pull through the St, YO, pull through 2 loops, YO, pull through the remaining 2 loops
The Lhdc was used in the White Chocolate Ganache FREE Dishcloth Pattern. This post features a photo tutorial too.
The SDc was used in the Cream Cheese FREE Dishcloth Pattern.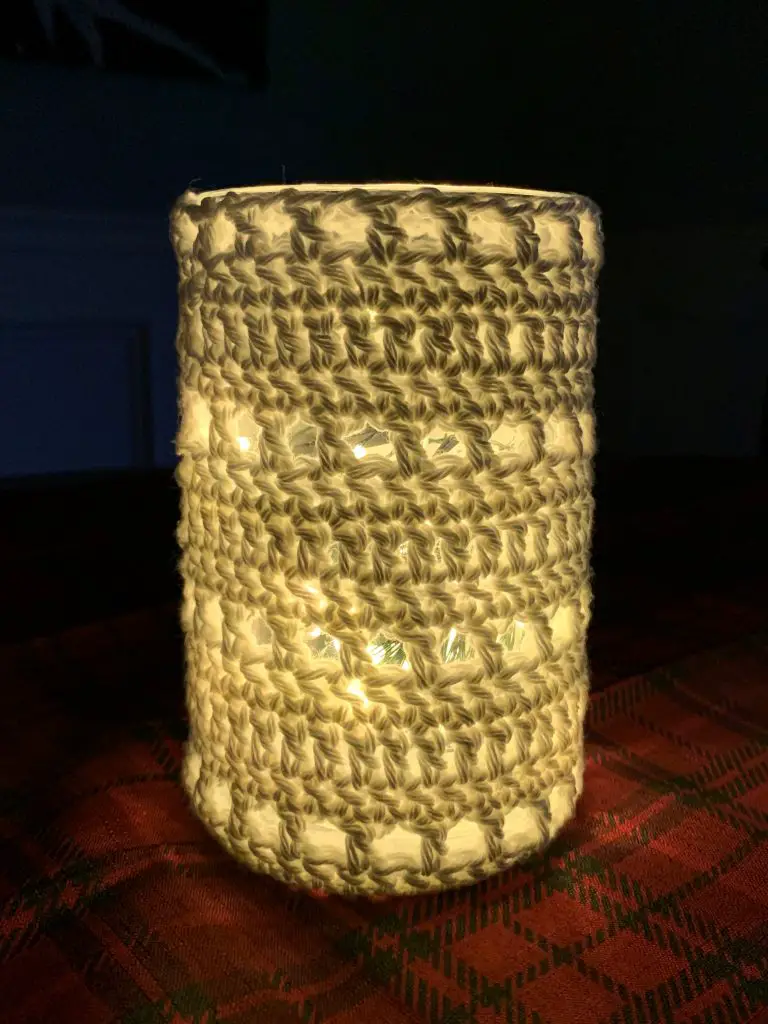 Pattern Notes
BLs – back loop and third loop of Lhdc.  This leaves the front loop unworked. 
A Ch 3 can be substituted for a SDc. 
A stitch count is provided at the end of each row.
Worked in rounds, without turning.
Height is adjustable. 
Availability
This pattern can be purchased on Ravelry.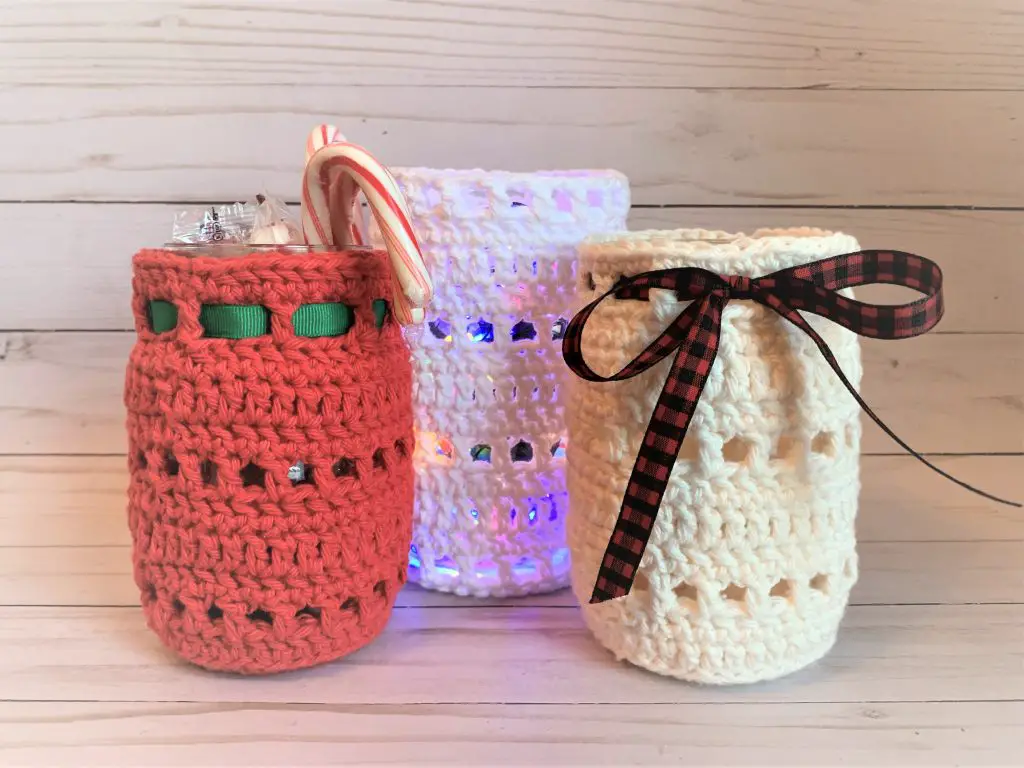 Other Madi Designs
The Madi Cardi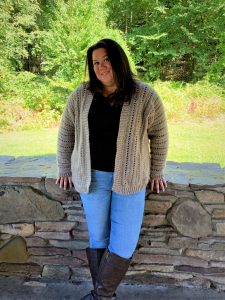 ---
Join the
"Crochets By Trista Crochet Group" on Facebook
Follow Crochets By Trista on:
Facebook
 Instagram
Pinterest
 Etsy
 Ravelry
I'd love to hear from you! Don't hesitate to contact me. Let me know what you're working on or designs that you'd like to see in the future. Use the links above or email me at crochetsbytrista@gmail.com.
If you've purchased my designs in the past, leave a review. I want to know what you think.