Welcome to the November edition of the Birthstone Collection. The Birthstone Collection is the theme for 2020. Each month I have a cowl, scarf, or shawl pattern in the color of that month's birthstone.
Previous Patterns in the Birthstone Collection include:
Garnet Cowl – January
Amethyst Scarf – February
Zoe's Aquamarine Infinity Scarf – March
Diamond Shawl – April
Emerald Asymmetrical Shawl – May
Pearl Infinity Cowl – June
Ruby Shawl – July
Peridot Shawl– August
Sapphire Shawl – September
Opal Shawl – October
***Post contains affiliate links- which means if you make a purchase from the links below, I will get a small percentage of the sales at no additional cost to you ***
The Design
Can you believe that it has taken me almost a year to design a "traditional" scarf. Over 25 patterns and not a single scarf that is close to a scarf you can buy at a local store that is machine made.
The Yarn
The yarn I picked for the Citrine Scarf is Bernat Baby Velvet in the color way Yolk Yellow. After comparing yarn to citrine stone beads in my local Michael's Arts & Crafts store, this yarn was the closest match. The color has since been discontinued but obviously you can pick any color of your liking.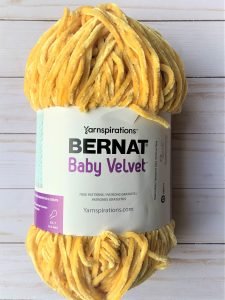 Supplies Needed
– 492 yards of Bernat Baby Velvet (one skein)
– I/5.5mm crochet hook
– Scissors
– Measuring tape
– Yarn needle
Stitches Used
Ch – Chain
Hhdc – Herringbone Half Double Crochet
St(s) – Stich(es)
These same stitches were used in Marshmallow – Part of the Frosting Collection, a series of FREE dishcloth patterns.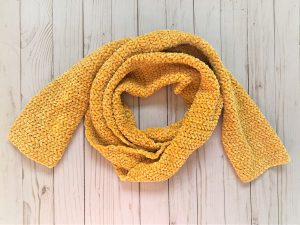 Stitch Definition
Hhdc – Herringbone Half Double Crochet: YO, insert hook in stitch, YO, pull up a loop and pull through first loop on hook, YO, pull through both loops on hook.
Pattern Notes
A stitch count has been provided at the end of each row.
Any worsted weight yarn will work.
Meeting gauge isn't a huge issue, you're may be wider or more narrow than mine, but that's ok.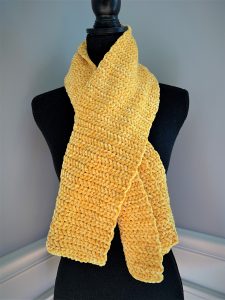 Availability
The Citrine Scarf pattern is available to purchase on Ravelry.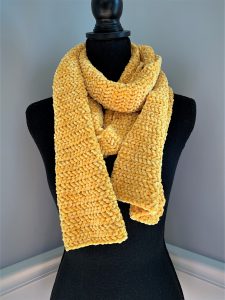 ---
Join the
"Crochets By Trista Crochet Group" on Facebook
Follow Crochets By Trista on:
Facebook
 Instagram
Pinterest
 Etsy
 Ravelry
I'd love to hear from you! Don't hesitate to contact me. Let me know what you're working on or designs that you'd like to see in the future. Use the links above or email me at crochetsbytrista@gmail.com.
If you've purchased my designs in the past, leave a review. I want to know what you think.
Go see the Ruby Shawl HERE.