Birthstone Collection
The Amethyst Scarf is the second pattern available in the "Birthstone Collection." The collection is the theme of 2020, where each month I have a cowl, scarf, or shawl pattern the color of that month's birthstone.
Other patterns available in the Birthstone Collection:
Garnet Cowl – January
Zoe's Aquamarine Infinity Scarf – March
Diamond Shawl – April
Emerald Asymmetrical Shawl – May
Pearl Infinity Cowl – June
Ruby Shawl – July
Peridot Shawl– August
Sapphire Shawl – September
Opal Shawl – October
Citrine Scarf – November
Turquoise Scarf – December
The Yarn
The amethyst stone, in my opinion, is the best one. Can you guess why? Yes, it is my birthstone. It's probably why my favorite color is purple too. There are so many shades of purple and violet within the stones, and depending on how they are cut, they can reflect shades of pink.
In December of 2019, I went to SOWA Winter Festival in Boston. SOWA is a whole art district within the city of Boston. Local artisans have their studios and shops within the converted mills. I was completely overwhelmed with how all these artisans took their medium and expressed themselves in such a way that made them so individually unique. Click here to find out more about SOWA.
One of the artists at SOWA was Mary Mandarino, a weaver who hand-dyes yarn for her scarves, ponchos, and shawls. She had many of her completed pieces for sale and they were GORGEOUS!!!
But since I'm a yarn addict, I had to have this yarn. The blends of purples and pinks was just calling to me. It didn't help that my cousin Madison was whispering in my ear "Treat Yo self," so the beautiful yarn came home with me.
Supplies
– Approximately 800 yards of fingering/superfine weight yarn Loops and Threads Woolike or Red Heart It's a Wrap
– E/4 (3.5 mm) crochet hook
– Measuring tape
– Scissors
– Yarn needle
– Blocking materials (optional)
The Pattern
I wanted a simple yet elegant scarf that could help showcase the colors within the yarn. This yarn isn't just yarn, its more like thread so I was out of wheelhouse working with something so thin.
I knew I wanted a triangle scarf, but the thing I dislike about triangle scarves is that they are so bulky around the neck if you want it to sit a certain way. So I decided to just get rid of the middle neck section altogether and start with a large v-shape. After a few rows my hook just started flying and the results are SPECTACULAR!!!!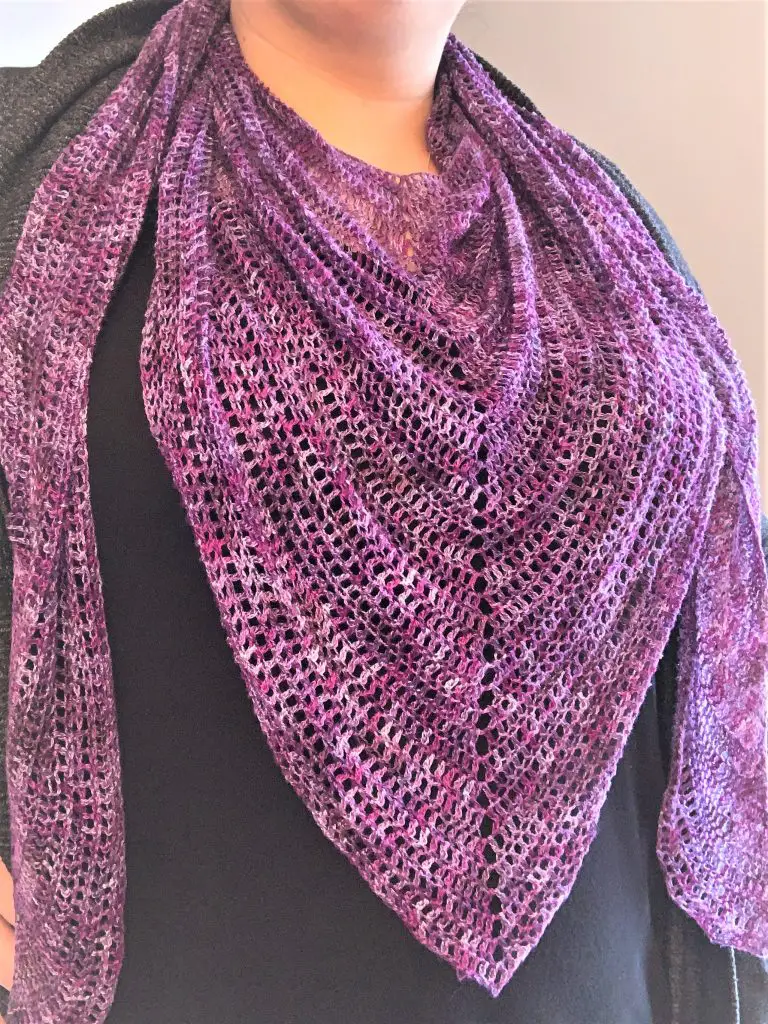 I hope you enjoy this design as much as I do!
The "Amethyst Scarf" is now available to purchase on
Etsy & Ravelry.
---
In May 2020, the kids and I dyed our own yarn using Kool-Aid. You can read how we did it HERE. I made my Amethyst Scarf using the yarn that we dyed. As you can see below, the results are gorgeous!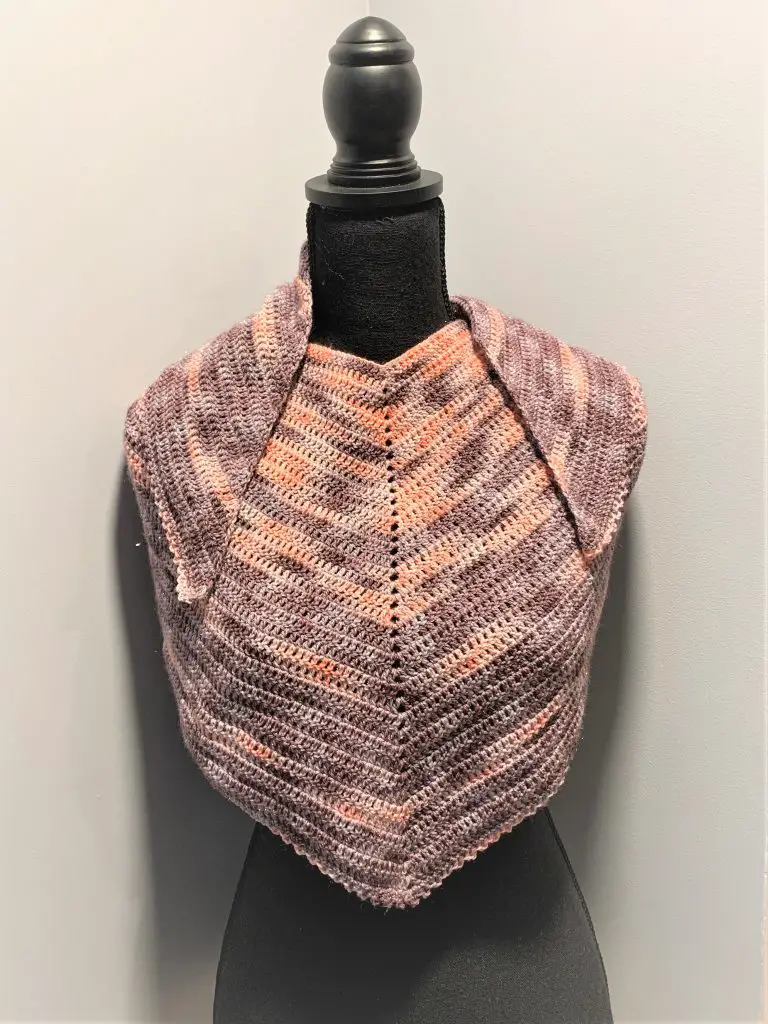 Join us in the
Crochets By Trista Crochet Group
on Facebook.
Follow Crochets By Trista on:
Facebook
Instagram
Pinterest
Etsy
Ravelry