May 2020 features the Emerald Asymmetrical Shawl. The fifth pattern in the Birthstone Collection. The theme for 2020, where each month I have a cowl, scarf, or shawl pattern in the color of that month's birthstone.
Other patterns available in the Birthstone Collection:
Garnet Cowl – January
Amethyst Scarf – February
Zoe's Aquamarine Infinity Scarf – March
Diamond Shawl – April
Pearl Infinity Cowl – June
Ruby Shawl – July
Peridot Shawl– August
Sapphire Shawl – September
Opal Shawl – October
Citrine Scarf – November
Turquoise Scarf – December
The Yarn
This pattern has been a labor of love for over a year now. In March 2019, I special ordered my yarn from MelodyyByWolltraum on Etsy. I originally name for the Emerald Shawl was "Kelly Shawl" but when it fits perfectly within the Birthstone Collection, you adjust.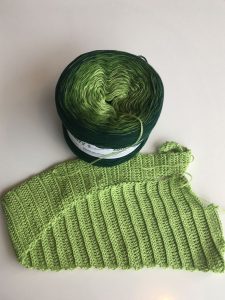 You could use any yarn. I recommend using a 'cake style' yarn because this design is perfect for the gradients available. The shawl will look great in a solid color too. The yarn doesn't need to be a fingering weight yarn either, go ahead and use your favorite worsted weight. I do advice to not go any larger than a #4 weight, you might loose the detail of the stitches.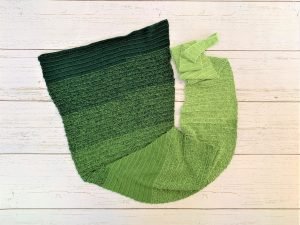 The Pattern Notes
This design can be a little tricky at first. The slip stitch rows tend to push the top of the previous row forward.  When working the next row, try to make sure that to put the stitch in the slip stitch and NOT the top of the previous row.  If having difficulty try doing a sample piece using contrasting colors.
Yours doesn't need to be as long as mine, I custom ordered the cake so I wanted to use it all. Make yours as long or short as you would like.
Supplies
– 1246 Yards/10.6 oz 4ply Wolltraum cake, Red Heart It's a Wrap or similar weight yarn
– G/4.00mm crochet hook
– Scissors
– Measuring tape
– Yarn needle
Stitches Used
Ch – Chain
Sc – Single Crochet
Sl St – Slip Stitch
Tr – Treble Crochet
Availability
This pattern is available to purchase in my Etsy & Ravelry Shops.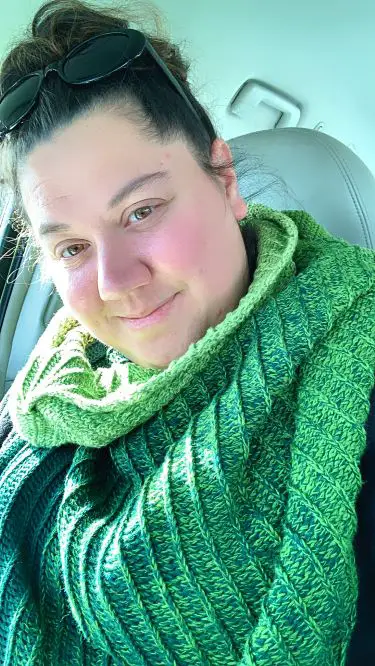 ---
Join the
"Crochets By Trista Crochet Group"
on Facebook.
---
Follow Crochets By Trista on:
Facebook
 Instagram
Pinterst
 Etsy
 Ravelry
---
I'd love to hear from you! Don't hesitate to contact me. Let me know what you're working on or designs that you'd like to see in the future. Use the links above or email me at crochetsbytrista@gmail.com.
If you've purchased my designs in the past, leave a review. I want to know what you think.