Birthstone Collection

Zoe's Aquamarine Infinity Scarf is the third pattern available in the "Birthstone Collection." The theme for 2020, where each month I have cowl, scarf, or shawl pattern in the color of that month's birthstone.
Other patterns available in the Birthstone Collection:
Garnet Cowl – January
Amethyst Scarf – February
Diamond Shawl – April
Emerald Asymmetrical Shawl – May
Pearl Infinity Cowl – June
Ruby Shawl – July
Peridot Shawl– August
Sapphire Shawl – September
Opal Shawl – October
Citrine Scarf – November
Turquoise Scarf – December
The Yarn
My daughter Zoe's birthstone is aquamarine. My husband has spoiled me over the years with jewelry that include the kids' birthstones. When looking for a yarn, I wanted to find one that matched the stone in my ring. I had the hardest time finding one that would work, since its a different color blue.
I finally found a yarn that would work, at my local Hobby Lobby. Yarn Bee's 'Fresh Haven' in colorway 'Light Blue' turned out to be the perfect shade of blue I was looking for. The yarn itself is 100% Tencel, which is made from wood pulp.
The Pattern
Zoe helped me design the scarf. I showed her so many pictures of scarves on Pinterest and Ravelry just to figure out what style she wanted. She obviously picked the infinity.
Next came the stitch pattern. This was the hardest part. We sat down with my "Crochet Stitch Dictionary" by Sarah Hazell and just started flipping through the pages. Zoe fell in love with the shell/scallop stitches. I then got to work.
I would ask her opinion on the scarf every step of the way. I'd finish a few rows, "Zoe, come look, what do you think?"
And this went on for the whole week until I got to a point where I felt I was almost done. She agreed! Can you imagine, my daughter (my mini-me in almost every way) finally agreed with me on something.
I still can't get over how great this pattern came out. I hope you enjoy it as much as we do.
Supplies
– Approximately 360 Yards of Yarn Bee – Fresh Haven or similar worsted weight yarn, such as Caron Simply Soft
– I/5.50mm crochet hook
– Scissors
– Measuring tape
– Yarn needle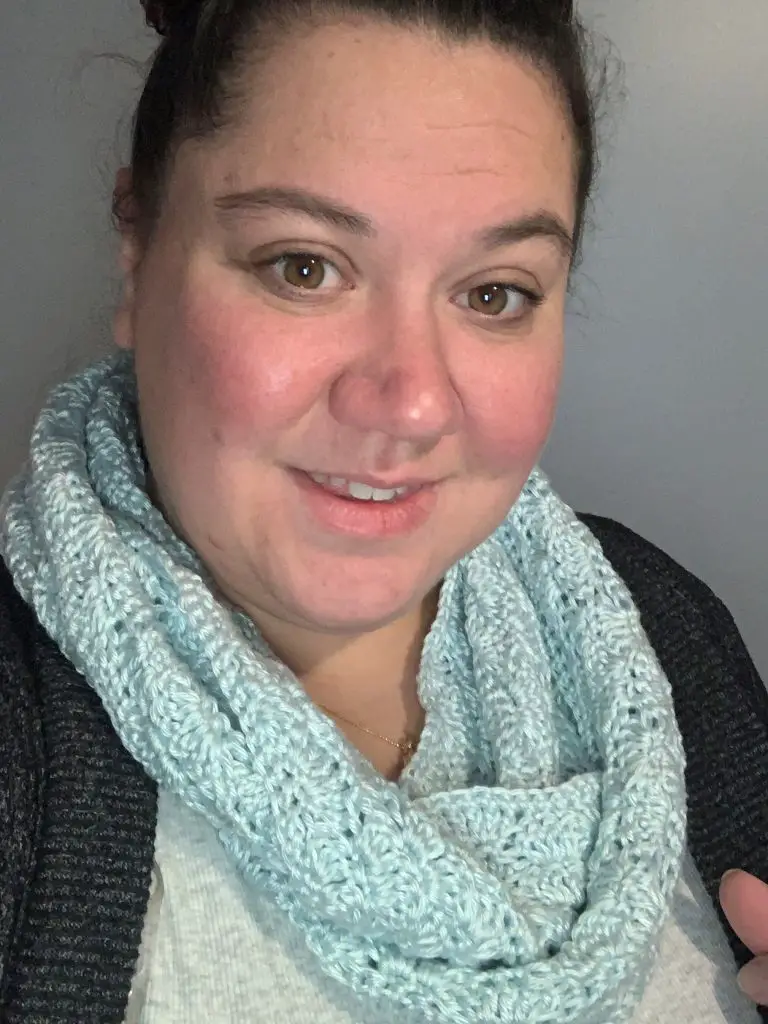 Zoe's Aquamarine Infinity Scarf Pattern is now available to purchase on Ravelry and Etsy.
Join us in
"Crochets By Trista Crochet Group"
on Facebook
Follow Crochets By Trista on:
Facebook
Instagram
Pinterst
Etsy
Ravelry