Who is ready for the last Birthstone Collection design of 2020?
The Birthstone Collection is a series of cowls, scarves, and shawls using yarns based on the color of that month's birthstone.
Other designs from the Birthstone Collection include:
Garnet Cowl – January
Amethyst Scarf – February
Zoe's Aquamarine Infinity Scarf – March
Diamond Shawl – April
Emerald Asymmetrical Shawl – May
Pearl Infinity Cowl – June
Ruby Shawl – July
Peridot Shawl– August
Sapphire Shawl – September
Opal Shawl – October
Citrine Scarf – November
The Yarn
It took me a while to decide on a yarn that would work for turquoise. Most of the colors I saw in the store leaned more towards a teal and I wasn't too fond of them.
I finally decided on the Premier's Anti-Pilling Bobbin in the colorway Peacock. It is a combination of 2 solid colors and one that is a combination of those two colors.
The Pattern
This scarf is full of texture and wonderful drape. When designing the Turquoise Scarf I wanted something that was simple but not boring.
I used 3 of the most basic crochet stitches to make this scarf. The first few rows can be a little tricky with stitch placement, but it will all come together by the second repeat.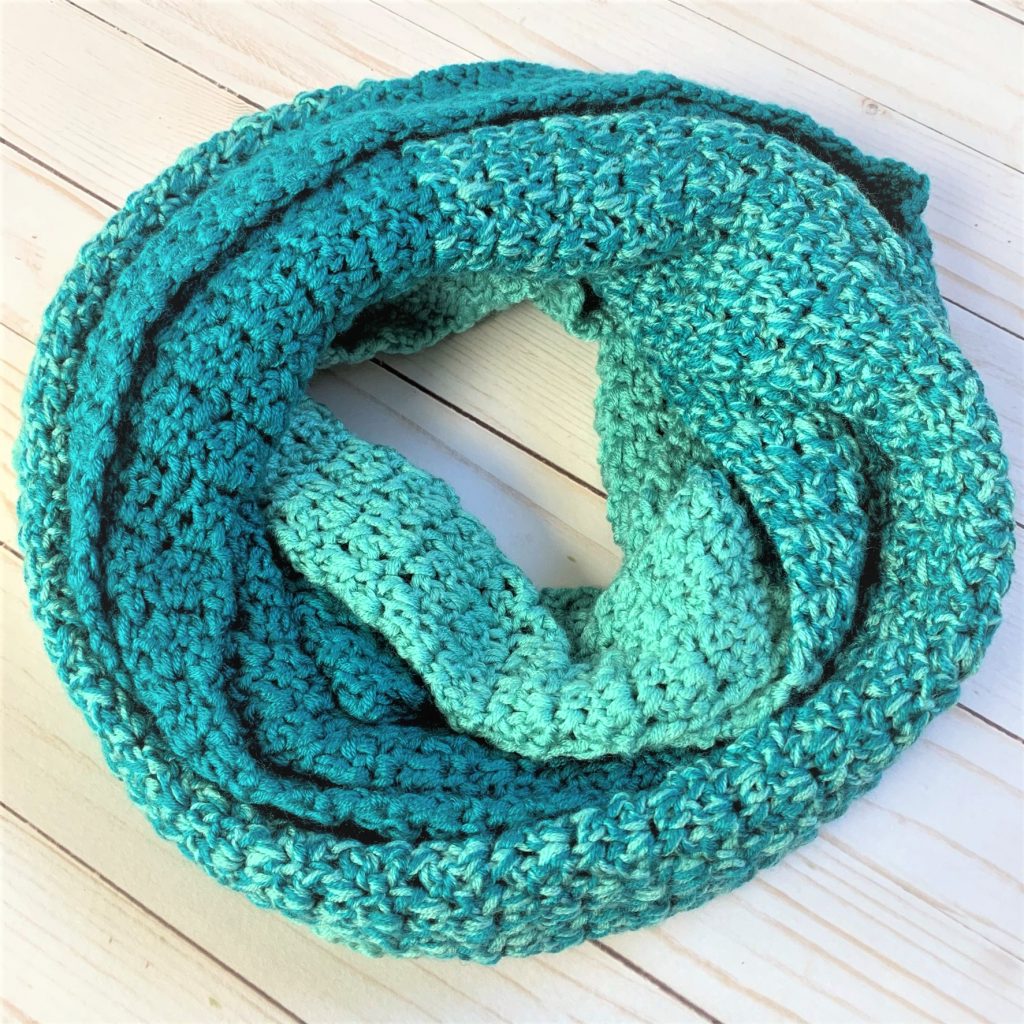 Supplies Needed
You will need the supplies listed below to make the Turquoise Scarf.
– One bobbin of Premier's Anti-Pilling Bobbin or approximately 550 yards of your favorite worsted weight yarn
– I/5.5mm crochet hook
– Scissors
– Measuring tape
– Yarn needle
Stitches Used
The stitches used for the Turquoise Scarf are:
Ch – Chain
Dc – Double Crochet
Sc – Single Crochet
Sk – Skip
SDc – Starting Double Crochet
Stitch Definition:
Starting Double Crochet – (also known as Long Chain Double Crochet or Chainless Starting Double Crochet.) Pull up your loop to the height of your usual Double Crochet. YO, insert into the 1st St, yarn over, pull through the St, YO, pull through 2 loops, YO, pull through the remaining 2 loops.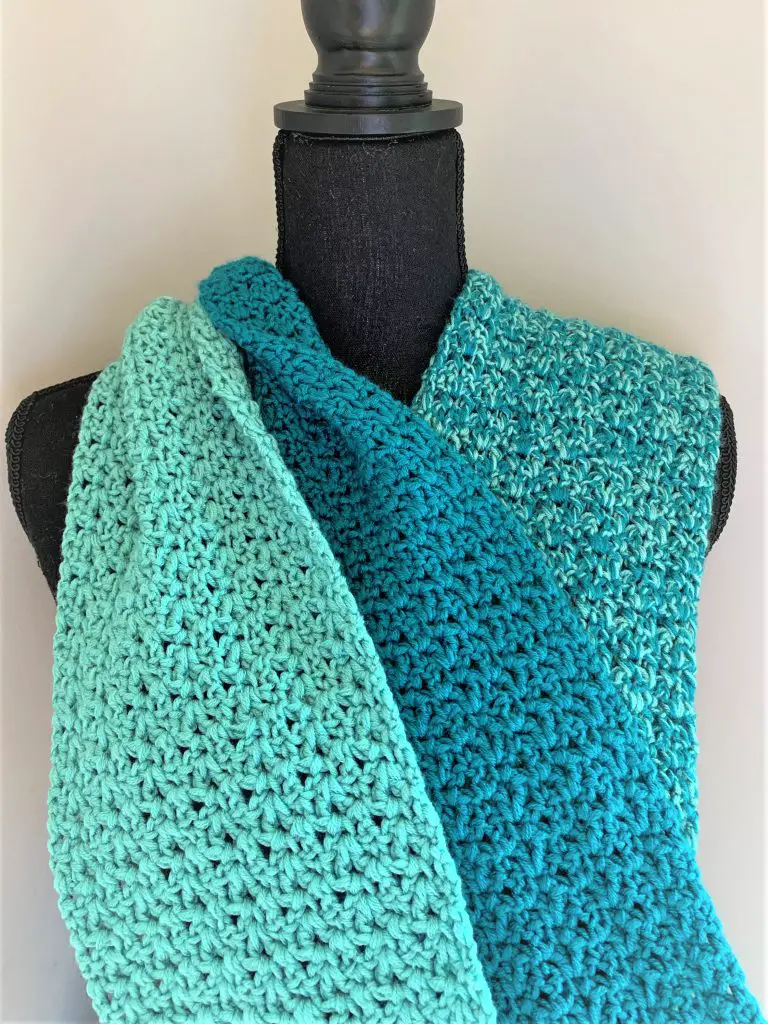 Pattern Notes
The stitch count is listed at the end of each row.
Ch 1 counts as a stitch.
A Ch4 can be substituted for the SDc and Ch1 at the beginning of even numbered rows.
Can be made to be any length you'd like.
Availability
This pattern is available to purchase on Ravelry.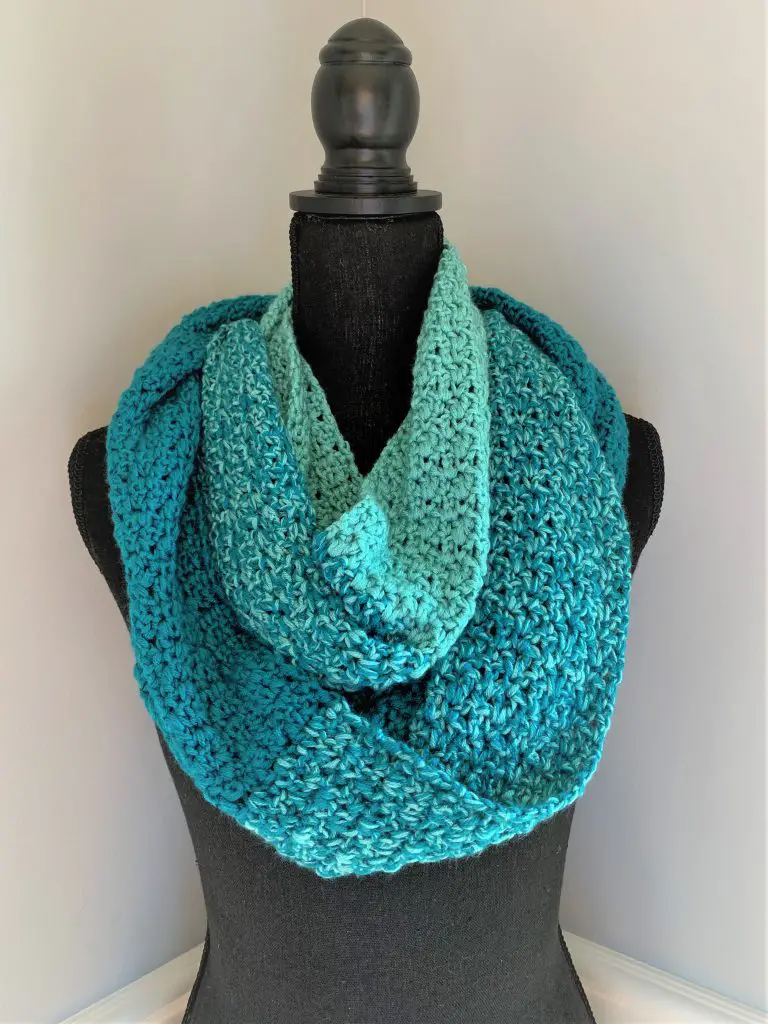 ---
Join the
"Crochets By Trista Crochet Group" on Facebook
Follow Crochets By Trista on:
Facebook
 Instagram
Pinterest
 Etsy
 Ravelry
I'd love to hear from you! Don't hesitate to contact me. Let me know what you're working on or designs that you'd like to see in the future. Use the links above or email me at crochetsbytrista@gmail.com.
If you've purchased my designs in the past, leave a review. I want to know what you think.