***Post contains affiliate links- which means if you make a purchase from the links below, I will get a small percentage of the sales at no additional cost to you ***
Can you believe that there are only two designs left in the Birthstone Collection now?!
The Birthstone Collection is the theme for 2020. Each month I have a cowl, scarf, or shawl pattern in the color of that month's birthstone.
October's birthstones are pink tourmaline and opal. As you can tell I decided on opal instead of the pink tourmaline.
Previous designs include:
Garnet Cowl – January
Amethyst Scarf – February
Zoe's Aquamarine Infinity Scarf – March
Diamond Shawl – April
Emerald Asymmetrical Shawl – May
Pearl Infinity Cowl – June
Ruby Shawl – July
Peridot Shawl– August
Sapphire Shawl – September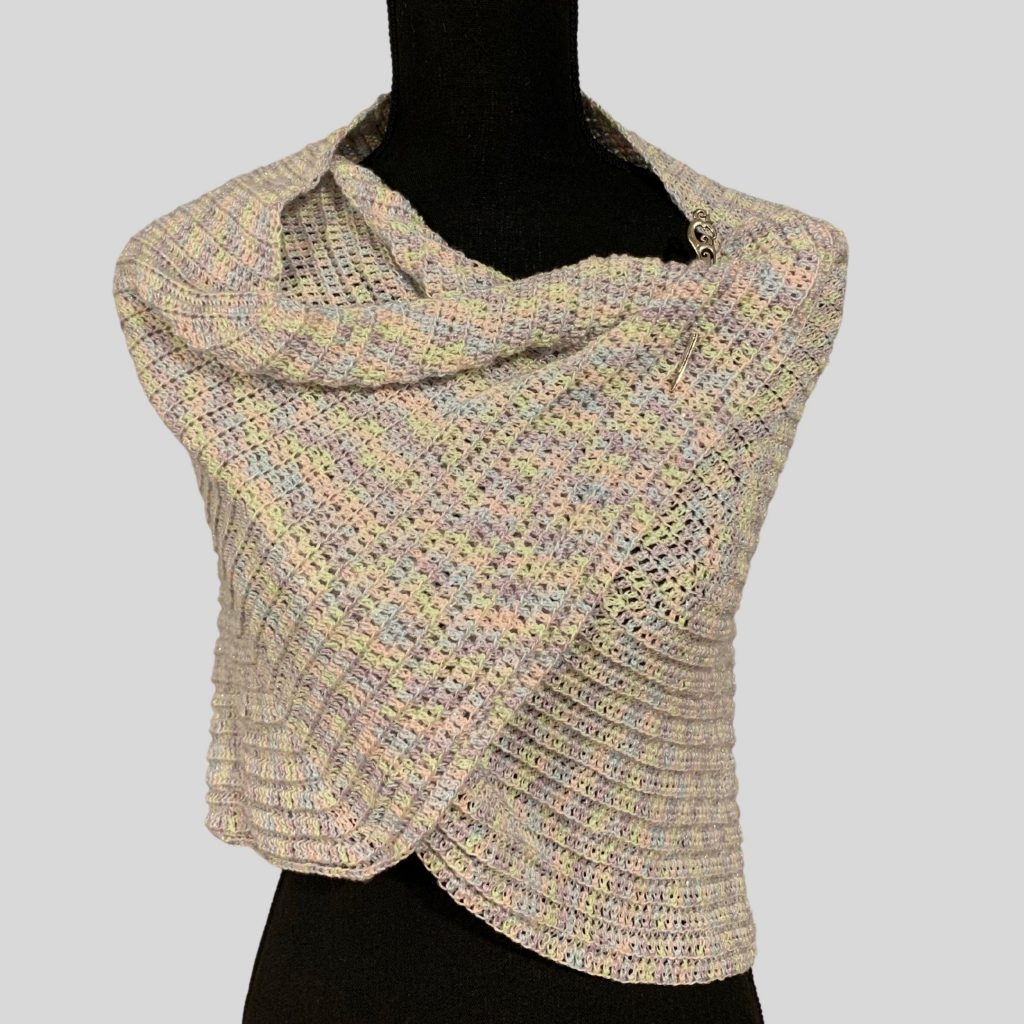 The Yarn
When I first saw the Summer Nights by Lion Brand Yarns hit the shelves I just knew that the colorway 'Ocean Cove' was destined to become the Opal Shawl.
The yarn is a variegated yarn that switches from pink to blue, to purple, to green, and then back to pink. There is also a piece of silver thread that helps make the yarn shimmer.
There are many types of opals and they all vary on colors and intensities. I envisioned the whiter opals when comparing the yarn to the stone. With the mixture of the milky white base and splashes of greens and blues, sometimes pinks and purples, all varying based on how the stone was formed and how the jeweler presented it.
All these things are the reason the yarn was calling to me to be named Opal.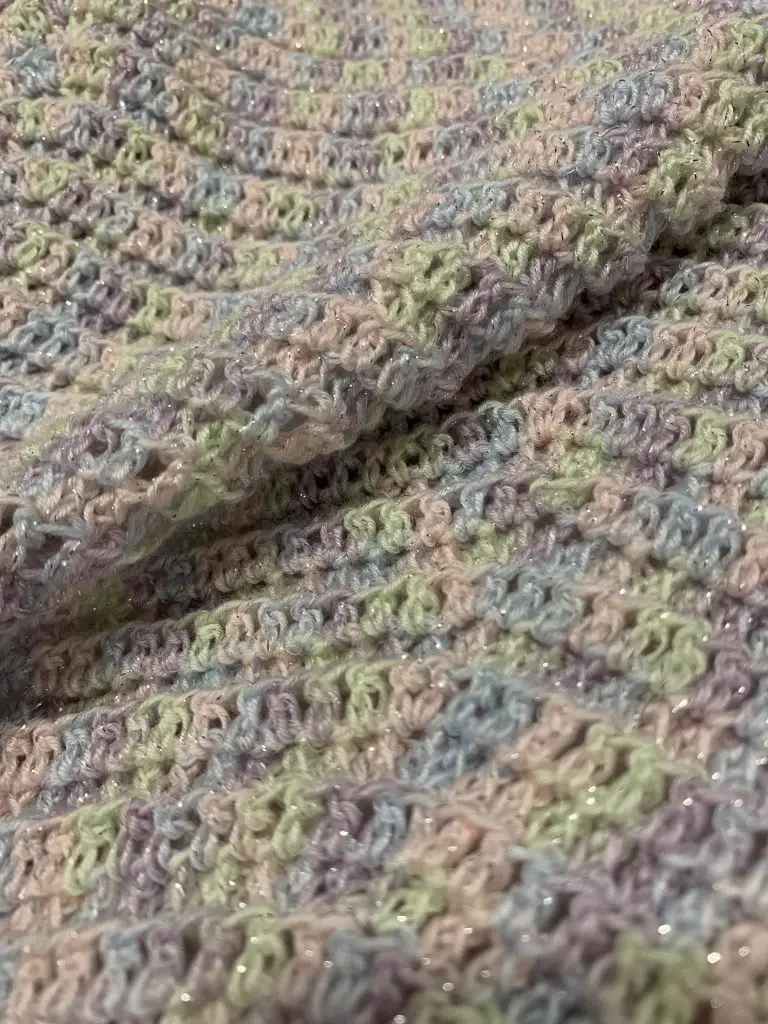 Supplies
– Approximately 1100 yards of Lion Brand's Summer Nights or similar fingering weight yarn
– F/3.75 Crochet hook
– Measuring tape
– Yarn needle
– Scissors
– Blocking materials (optional)
Pattern Notes
A stitch count has been provided.
Blocking is not necessary but advised.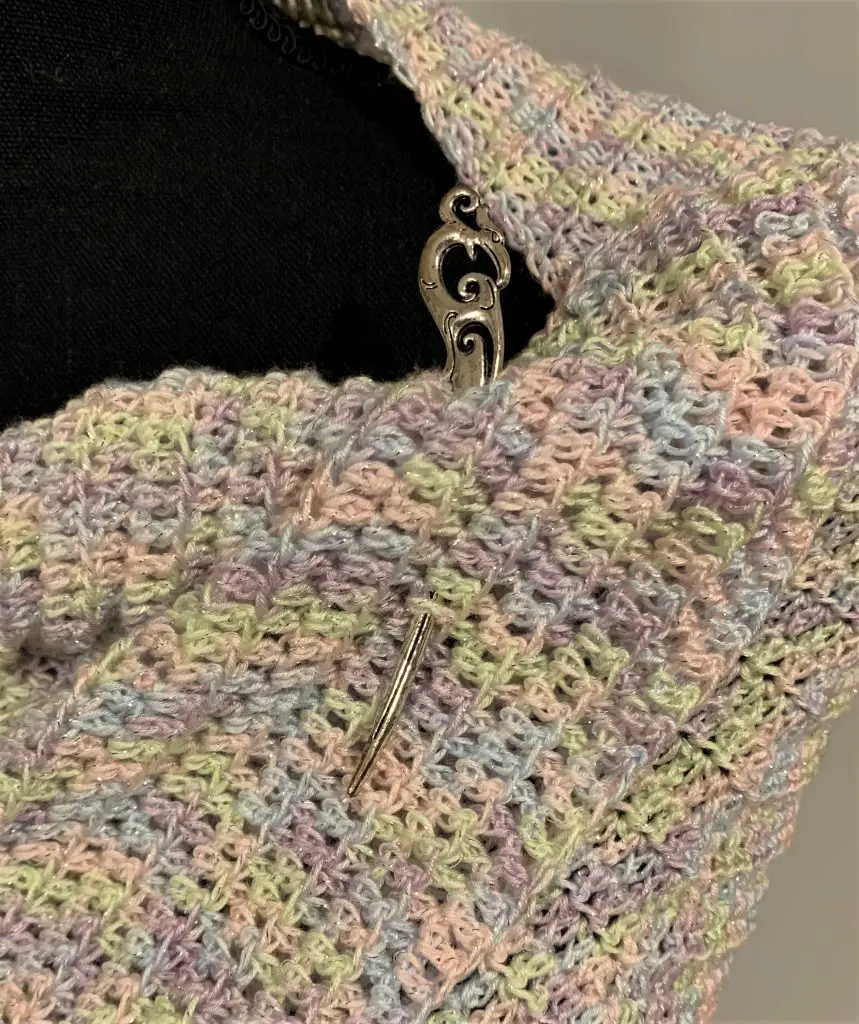 Stitches & Abbreviations
Ch – Chain
Ehdc – Extended Half Double Crochet
Inc – Increase
MC – Magic Circle
Sc – Single Crochet
Sk – Skip
St(s) – Stitch(es)
Stitch Definition
Ehdc – Extended Half Double Crochet: YO, insert hook in to stitch, YO and pull up a loop (3 loops), YO and pull through 1st loop (3 loops), YO and pull through all 3 loops.
The Pattern
The Opal Shawl is classified as an 'Easy' pattern. The design consists of only one stitch and easy to follow instructions on when to increase to form the semi-circle.
It was originally written to be used for fingering weight yarn but a simple switch to different weight yarn and hook would be a get adjustment.
Availability
This pattern is available to purchase on Ravelry.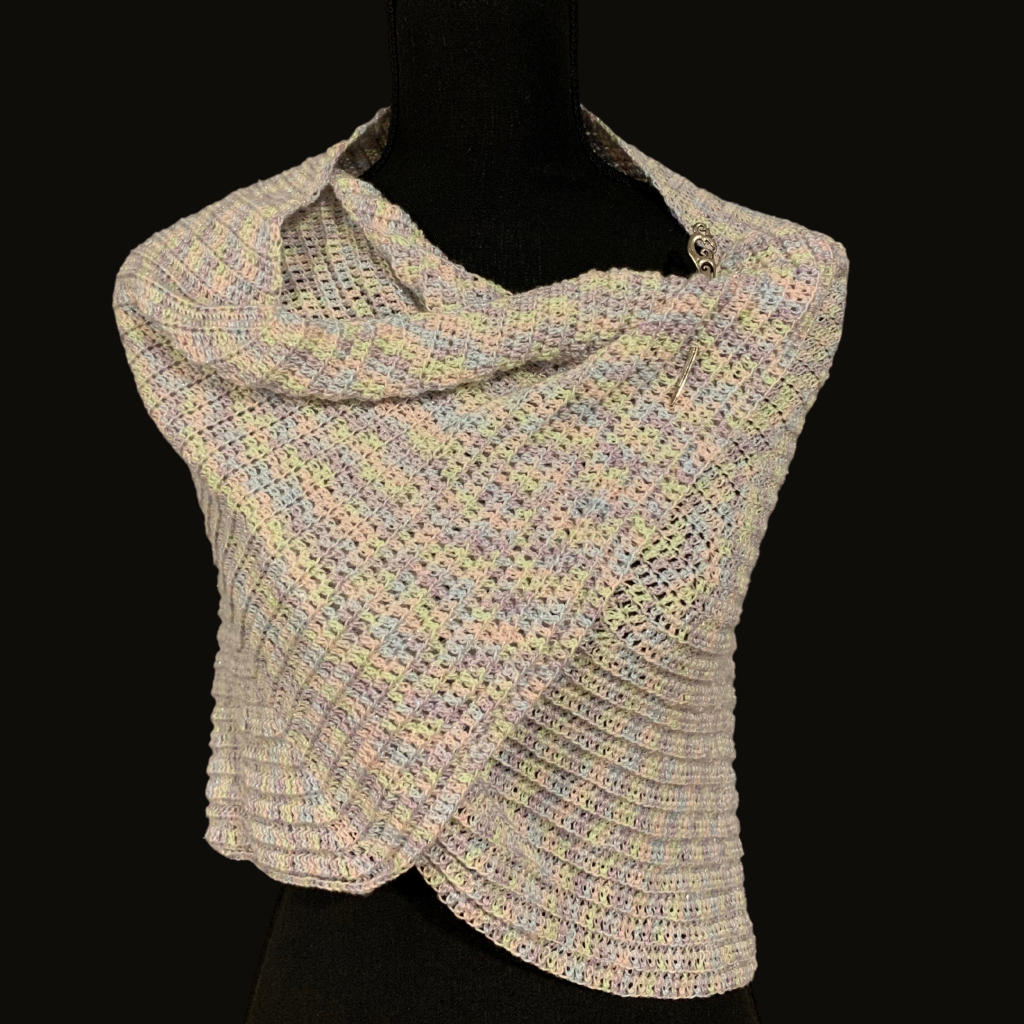 Join the
"Crochets By Trista Crochet Group" on Facebook
Follow Crochets By Trista on:
Facebook
 Instagram
Pinterest
 Etsy
 Ravelry
I'd love to hear from you! Don't hesitate to contact me. Let me know what you're working on or designs that you'd like to see in the future. Use the links above or email me at crochetsbytrista@gmail.com.
If you've purchased my designs in the past, leave a review. I want to know what you think.
Take a look at the Amethyst Scarf too.